home > recipes > copycat recipes > copycats a to z > G - Gallagher's to Guthrie
Copy Cat Recipes: G - Restaurants and Brands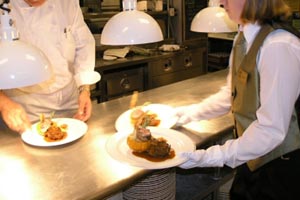 jump to the recipes

We've collected our favorite copy cat recipes from Godfather's Pizza, Golden Corral, Ground Round, and more. We've even dug up some awesome recipes to make your own Girl Scout cookies at home!
Classic Green Goddess Dressing
A very traditional version of the classic Green Goddess salad dressing made with parsley, green onions, garlic, anchovies, tarragon, mayo, vinegar, and sour cream.
Gadsby's Tavern Sally Lunn
1 review
Made with water, flour, active dry yeast, shortening, sugar, milk, salt, egg
oven, stovetop
Gagliardi's Spaghetti Sauce
1 review
Made with Cans Water, (4 oz. size) Tomato Paste, (48 oz size) Diced Tomatoes, (48 oz size) Crushed Tomatoes, onions, Head Garlic Or More Crushed Or Chopped, red bell pepper, green bell pepper, ground
Gallagher's Cheddar Cheese Soup
Made with process cheese spread, water, carrots, green onions, celery, butter, flour, white onion, milk, chicken broth
stovetop
Gallagher's Gingerbread
Made with ground cloves, cinnamon, ground ginger, flour, water, baking soda, brown sugar, eggs, molasses, butter
Gallagher's Guinness Stout & Filet Mignon Chili
1 review 1 comment
Made with Guinness stout, tomatoes, flour, tomato paste, beef stock, kidney beans, black beans, chili powder, brown sugar, kosher salt
stovetop
Gardenburger
Made with onion, oatmeal, brown rice, Mozzarella cheese, Cheddar cheese, cottage cheese, salt, garlic powder, black pepper, cornstarch
oven, stovetop
Gastronomia Italiana's Lobster Ravioli with Crabmeat Cream Sauce
2 reviews
Made with salt, black pepper, chives, egg white, butter, shallots, Maryland crabmeat, cognac, tomato sauce
stovetop
Genny's Diner's French Onion Soup
Made with water, unsalted butter, yellow onions, fresh garlic, burgundy or other dry red wine, bay leaf, white pepper, thyme, salt, beef stock
stovetop, oven
Genoa's Caramelized Pear Antipasto
Made with head radicchio, salt and pepper, Bosc pears, firm but ripe, sugar, butter, balsamic vinegar, olive oil, walnut halves, lightly toasted, thin slices of prosciutto, Parmigiano-Reggiano cheese