Margaritas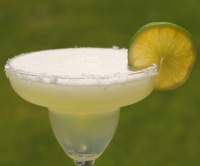 A variety of margarita recipes - no need to travel to Mexico to have one of these south-of-the-border favorites. Ever popular is our copy cat recipe for Applebee's Perfect Margarita
Applebee's Perfect Margarita
This copy cat version of Applebee's popular drink is indeed, a perfect margarita! Use good brands of tequila and sweet and sour mix (or make your own) for best results.
Margarita Punch
A great way to serve margaritas to a crowd. The traditional margarita ingredients of tequila, triple sec, and sour mix are combined with ginger ale and lime sherbet to create a creamy lime-colored punch.
Beer Margaritas
A different kind of margarita made with beer, frozen limeade, and tequila.
Chocolate Margaritas
Made with ice, orange juice, chocolate syrup, tequila, chocolate liqueur, cream or half & half
Scarlet Margaritas
Made with salt, lime, ice, pomegranate juice, orange liqueur, tequila, lime juice, pomegranate seeds
Homemade Margarita
Made with limes, triple sec, tequila, frozen lemonade concentrate, frozen limeade concentrate, frozen mix, water
Banana Margarita
Made with ice, silver tequila, triple sec, limeade concentrate or sweetened lime juice, bananas