Crock Pot Flank Steak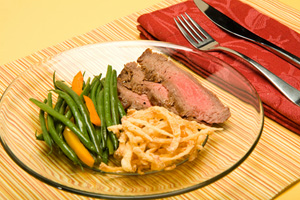 jump to the recipes

This cut of beef is tough if it's not cooked properly. Normally you would marinate it to make it tender but in these recipes the slow cooking time from the crockpot is what tenderizes it.

Because of its shape (thin and flat), flank steak is great rolled up around a filling like in our recipes for Southwestern steak roll-ups. It's also good meat to use Mexican-style in fajitas and burritos or Asian style like Chinese beef and pea pods.
Beef Fajitas

3 reviews
Made with flank steak, onion, green bell pepper, red bell pepper, jalapeno pepper, cilantro, garlic, chili powder, cumin, ground coriander
crock pot
Juicy Flank Steak In Mushroom Sauce

1 review
Made with water, cornstarch, flank steak, sauterne wine, soy sauce, garlic, beef broth, ketchup, prepared mustard, onion
crock pot
All Day Flank Steak Teriyaki

2 reviews
Made with water, chicken bouillon cubes, flank steak, pineapple, pineapple juice, soy sauce, ground ginger, dry sherry, brown sugar, Worcestershire sauce
crock pot
Steak Fajitas

1 review
Made with onion, green bell pepper, salsa, garlic, lime juice, black pepper, salt, flank steak, red bell pepper, yellow bell pepper
crock pot
Asian Flank Steak
Made with kosher salt and freshly ground pepper, Worcestershire sauce, brown sugar, flank steak, oil, pineapple rings, pineapple juice, soy sauce, ginger, sherry
crock pot
Stuffed Flank Steak

1 review
Made with green onions, dry red wine, brown gravy mix, stuffing, mushrooms, butter or margarine, Parmesan cheese, flank steak, salad oil
crock pot
Three-Pepper Steak
Made with tomatoes, flank steak, yellow bell pepper, green bell pepper, salt, red pepper flakes, green onions, soy sauce
crock pot
Southwestern Steak Roll-Ups
Made with beef flank steak, Mexican-style stewed tomatoes, frozen stir-fry vegetables, jalapeno pepper, flour tortillas, chili powder, lime
crock pot
Mexican Flank Steak
Made with fresh cilantro, flank steak, tomatillos, baby corn, red onion, garlic, black pepper, salt, dried oregano, diced tomatoes
crock pot
Flank Steak Roll-up
Made with dry red wine or beef broth, green onions, brown gravy mix, mushroom stems and pieces, butter or margarine, stuffing mix, beef flank steak
crock pot
Beef Burritos

1 review
Made with green chiles, white distilled vinegar, London broil or flank steak, taco seasoning mix, onion
crock pot
Tangy Flank Steak
Made with salt, sugar, garlic powder, chili powder, vinegar, water, green chiles, onion, oil, flank steak
crock pot