home > recipes > copycat recipes > copycats a to z > E - East Side Grill to Entenmanns
Copy Cat Recipes: E - Restaurants and Brands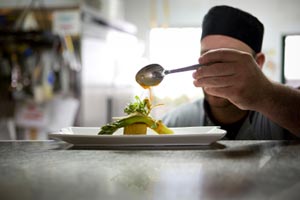 jump to the recipes

Here's our collection of brand and restaurant copycats starting with the letter "e".

One of the more popular restaurants in this category is El Torito, a casual Mexican restaurant located primarily in California. They are well known for their sweet corn cake, chicken enchiladas, and flavorful salsa.

We also have some copycat versions of Entenmann's baked snack foods. The original Entenmann's bakery is over 100 years old but it wasn't until the 1970's that they expanded to sell their baked goods to grocery stores across the country. They are also known for having very good fat-free baked goods like their chocolate cupcakes and oatmeal raisin cookies.

We've also got recipes from El Pollo Loco, The Eatery, Egg Roll House and more!
Eagle Creek Resort Bread And Cheddar Appetizer
Made with Small Chili Peppers -- optional, Fresh Herbs -- optional, apple -- cored and sliced, Parmesan cheese, Jar (5 oz size) processed sharp cheddar cheese spread, Dijon mustard, Small round loaf
Eagle Creek Resort Perfect Potato Soup
1 review
Made with dried rosemary, olive oil, all-purpose flour, water, whipping cream, half-and-half or light cream, salt, black pepper
stovetop
Easy Bake Oven Chocolate Cake
6 reviews
Made with flour, sugar, baking powder, cocoa powder, shortening, salt, milk
Eatwell's Macaroni and Cheese
Made with onion, garlic, flour, milk, cream, Dijon mustard, Monterey Jack cheese, Cheddar cheese, Parmesan cheese, blue cheese
oven, stovetop
El Charro's Chile Rellenos
Made with green chiles, cheddar or jack cheese, eggs, flour, salt, black pepper, oil, taco sauce
stovetop
El Chico Fried Ice Cream
1 review
Made with oil, maraschino cherries, vanilla ice cream, corn flake crumbs, sugar, cinnamon, honey or chocolate syrup, whipped cream
deep fryer