home > recipes > cooking method > on the grill > marinades and rubs > beef marinades
Beef Marinades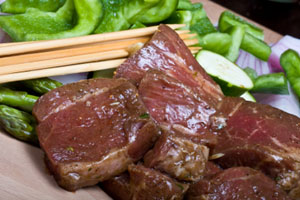 jump to the recipes

The right marinade can turn a cheap, chewy cut of beef into a delicious dinner or enhance a simple cut of beef's natural flavor.

valerie says: The trick is having the right blend of flavors and acidity. The acids in the marinade will break down the tough fibers of the beef making it tender. In beef marinades you will usually use an acid like wine (or beer or other liquor), vinegar, or lemon juice (other acidic fruit juices will work too) combined with a mild oil.

The additional flavors can come from spices, fresh herbs, garlic, and seasoning sauces like Worcestershire or soy sauce. Whatever flavors you choose will soak into the meat so make sure if you are choosing a recipe with flavors you enjoy. Also, be careful when adjusting ingredients to taste so that you aren't overpowering the natural meat flavors.

Because these are acidic recipes make sure to marinate the beef in plastic or glass, not metal, containers. Also, do not marinate for more than 24 hours unless a recipe specifically calls for it. The acid can actually break down the fibers in the beef too far and start to "cook" it, causing the meat to become mushy.
Burgundy Marinade For Beef Steaks
1 review
Made with molasses, ketchup, Burgundy or dry red wine, oil, garlic, pepper, salt
California Marinade For Beef
Made with wine vinegar, soy sauce, dry mustard, sherry or apple juice, rosemary leaves -- crushed, olive oil, garlic
Beer Marinade For Beef
Made with lemon juice, prepared horseradish, beer, olive oil, wine vinegar, onion powder, garlic powder, salt, cayenne pepper
Zesty Beef Marinade
Made with seasoned salt, vegetable oil, mustard, yellow, Worcestershire sauce
Szechwan Beef Marinade
Made with ginger, white wine vinegar, soy sauce, lime juice, sesame oil, red pepper flakes, garlic