Crock Pot Appetizer Meatballs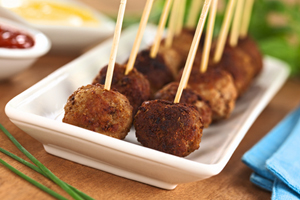 jump to the recipes

Appetizer meatballs are almost always the biggest hit at parties (chicken wings are their biggest contender). The great part is that you can vary the flavors to fit almost any menu. One of the most popular flavors is barbecue and even that can be varied to take on a smoky or sweet flavor depending on the sauce you use. Another popular flavor is cranberry sauce mixed with onion soup mix. Sounds kinda strange, but wow is it tasty!

If you want to add some ease to your next party, try these recipes for little meatballs made in the crockpot. It's also an easy way to serve them in informal settings since you can just leave them in the crock and they stay warm.
Pizza Meatballs

3 reviews
Made with ground beef, onion powder, egg, panko bread crumbs, garlic, Worcestershire sauce, Italian seasoning, salt and pepper, tomato sauce
oven, crock pot
Swedish Meatballs

2 reviews
Made with salt, allspice, nutmeg, cardamom, black pepper, flour, cream, onion, beef broth, butter
oven, crock pot
Sweet And Sour Cocktail Meatballs

1 review
Made with cocktail sauce, precooked frozen meatballs, grape jelly
crock pot, stovetop
Appetizer MeatBall Sauce

1 review
Made with chili sauce, grape jelly, Worcestershire sauce
crock pot
Barbecued Cocktail Meatballs

4 reviews
Made with ketchup, bread crumbs, egg, onion, black pepper, garlic salt, brown sugar, tomato paste, soy sauce, cider vinegar
crock pot, oven
Cranberry Meatballs

1 review
Made with eggs, salt, black pepper, onion, bread crumbs, water, cranberry sauce, brown sugar, chili sauce, lemon juice
crock pot, stovetop
Cocktail Meatballs

1 review
Made with brown sugar, ketchup, ground beef, evaporated milk, dry onion soup mix, Worcestershire sauce
oven, crock pot
Zesty Beer Meatballs

2 reviews
Made with ketchup, salt and pepper, ground beef, onions, bread crumbs, eggs, beer, vegetable juice, lemon juice, hot sauce
oven, stovetop, crock pot
Barbecue Meatballs
Made with salt, bread crumbs, chili sauce, grape or currant jelly, Dijon mustard, ground beef, egg
crock pot, oven
Bourbon Cocktail Meatballs
Made with Worcestershire sauce, lemon juice, dried onion flakes , garlic powder, honey, prepared mustard, bourbon, barbecue sauce, frozen meatballs
crock pot
Fruity Spicy Meatballs

2 reviews
Made with apple juice, cranberry sauce, frozen Italian meatballs, garlic, chili sauce
crock pot
Cranberry Barbecue Meatballs
Made with ground beef, ground pork, onion, bread crumbs, mustard, seasoned salt, pepper, egg, barbecue sauce
crock pot, oven