Cakes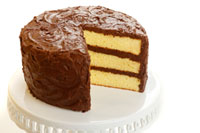 A variety of recipes for cakes from easy to elaborate perfect for any occasion like birthday cakes or wedding cakes. You CAN have your cake and eat it too!
Better Than Sex Cake
Made with toffee candy bars, whipped topping, German chocolate cake mix, sweetened condensed milk, caramel
oven
Black Cake (Jamaican Fruitcake)
Made with prunes, glace cherries, glace lemon peel, glace orange peel, Passover wine, rum, sugar, water, cake flour, baking powder
oven, stovetop
1 Minute Cake
The famous one minute mug cake! If you are craving a bite of cake but don't want to make a whole one, this recipe is for you. Just a few ingredients in a mug and one minute on high in the microwave.
microwave
Vegan Cake
Made with vanilla extract, unbleached flour, sugar, baking soda, salt, water, vinegar, vegetable oil or applesauce
oven
Classic 7 UP Pound Cake
Made with 7-up, butter, shortening, sugar, vanilla extract, almond extract, eggs, all-purpose flour, salt
oven
Passover Chocolate Cake
Made with eggs, sugar, salt, lemon, walnut halves, semisweet chocolate chips, semisweet chocolate, margarine or unsalted butter
microwave, oven
Almost Heaven Cake
A yellow cake is baked and topped with crushed pineapple, vanilla pudding, cream cheese, and Cool Whip.
oven