home > recipes > copycat recipes > copycats a to z > C - Cafe Brenda to Cracker Barrel
Copy Cat Recipes: C - Restaurants and Brands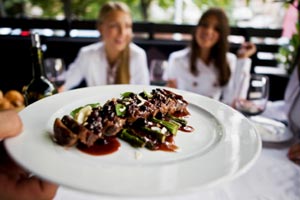 jump to the recipes

This is our collection of copy cat recipes from restaurants and brands that start with the letter "c". It's probably our largest and most popular copycat section.

Currently the most requested recipes are from the Cheesecake Factory. It's a national chain restaurant that strives to be more of an upscale dining experience than other chains. As their name implies they are known for their variety of cheesecakes like the German chocolate or carrot cake cheesecakes. But they're also known for their other dishes like mashed potatoes or Santa Fe chicken salad.

Carrabba's Italian Grill is an American-Italian restaurant with an extensive menu. Their specialties include chicken bryan, stuffed mushrooms, and their famous bread dipping sauce.

Other famous names you'll see here include Cinnabon, Cracker Barrel, Chipotle, Chili's and more!
Caesar's Bar And Grill Caesar Salad
Made with anchovy fillets, chopped, optional, wine vinegar, lemon juice, egg, Worcestershire sauce, black pepper, salt, heads romaine lettuce, chilled, torn, olive oil, garlic
Cafe Annie's Southwestern Grilled Chicken With Lime Butter
1 review
Made with bone-in chicken parts, balsamic vinegar, olive oil, black pepper, salt, cocoa powder, brown sugar, chili powder, ground cinnamon
Cafe At The Corner's Cajun French Chili
Made with smoked andouille sausage, sliced into 1/4-inch rounds, (15-ounce size) dark red kidney beans, rinsed and drained, (28-ounce size) premium diced or crushed tomatoes, cayenne pepper, white
Cafe Brenda's Nut and Veggie Burger
1 review
Made with walnuts or pecans, celery, carrot, onion, garlic, oil, egg whites, soy sauce, tomato paste, dried oregano
stovetop
Cafe Chardeau's Italian Chicken Soup
Made with dried oregano, boneless skinless chicken breast halves, bread crumbs, olive oil, yellow onion, garlic, red pepper flakes, celery, carrot, fresh baby spinach