Recipe Explorer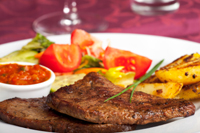 Recipes NOUN: A set of directions with a list of ingredients for making or preparing something, especially food. (The American Heritage Dictionary of the English Language, Fourth Edition.)

The word originated from the Latin word recipe which means to "take back", i.e. an instruction to take the listed items out of storage. We currently have over 120,000 fabulous recipes "in storage", submitted by home cooks just like you. Browse by course, ingredient, cuisine or dish to find what you are looking for, or use the search box located at the top of the page. New dishes are added every day!
Appetizers to desserts and everything in between. Plan a menu, bake some bread, or get dinner on the table in a jiffy.
Saucy Seafood Stir-Fry
Scallops, shrimp, fresh veggies and... a secret ingredient that might surprise you!
get the recipe →
Make your favorite restaurant recipes and brand-name foods at home.
La Madeleine's Strawberries Romanoff
A classic sweet treat made from strawberries mixed with a sour cream, brandy, brown sugar sauce. We deviated a little in the presentation and used sliced strawberries along with a little whipped cream served in small parfait glasses.
get the recipe →
Dust off those unused cooking appliances and try some new recipes.
Basic Brown Rice Under Pressure
Rice in the pressure cooker is simple and turns out fantastic! Not mushy or sticky, just perfectly cooked grains of rice.
get the recipe →
Pick your recipes by what ingredient you want to cook with.
Pork Kabobs
Season, assemble and grill - and dinner is served!
get the recipe →
Cooking substitutions, basic recipes, household and crafts.
Ginger Peach Marmalade
Great recipe! Made this with home-grown peaches & oranges, but added more ginger and not so much sugar, using low-sugar pectin, and it was a big hit with...
get the recipe →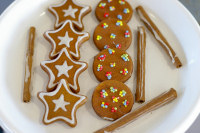 holidays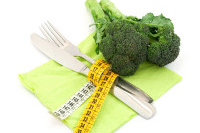 health & diet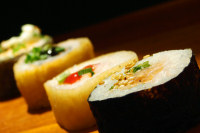 cuisines