home > recipes > meals / dishes > side dishes > vegetables > vegetables R-Z > squash > yellow squash
Summer Squash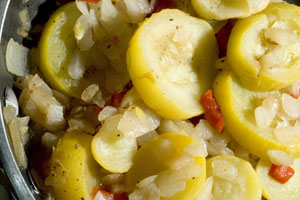 jump to the recipes

Called "Summer Squash" because of its late summer peak in freshness, this yellow squash is also available year-round in many places. Yellow inside and out, the squash (which doesn't need to be peeled) is delicious prepared a number of ways. It can be grilled, pan-fried, broiled, sauteed, etc. Yellow summer squash is low in fat and carbohydrates and contains Vitamin C, making it a healthy choice!
Mexican Squash
2 reviews
Made with black pepper, salt, sugar, yellow squash, water, onion, margarine, tomatoes, mushroom pieces, green chiles
stovetop
Pan-Grilled Summer Squash
4 reviews
Yellow squash and zucchini are cooked with onions, garlic, and fresh basil.
stovetop
Sauteed Yellow Squash
1 review
Made with chives, olive oil, butter, red bell pepper, yellow squash, salt and freshly-ground black pepper, fresh parsley
stovetop
Buttery Squash
Made with black pepper, salt, onion, yellow squash, sliced into 1/2-inch rounds, butter
Yellow Squash Casserole
8 reviews
Made with cracker crumbs, egg, butter, yellow squash, onion, salt, water, cheddar cheese, whole milk
oven, stovetop
Yellow Squash With Kale
Made with black pepper, water or vegetable stock, kale, olive oil, yellow summer squash, garlic, salt, fresh thyme, dried thyme
stovetop
Broccoli Spears And Yellow Squash
2 reviews
Made with salt, broccoli, yellow squash, olive oil, garlic, dried oregano
stovetop
Skillet Squash And Potatoes
1 review
Made with salt and pepper, paprika, potatoes, onions, vegetable oil, yellow summer squash
stovetop
Squash and Zucchini Casserole
1 review
Made with olive oil, Parmesan cheese, yellow squash, zucchini, parsley, oregano, cheddar/mozzarella cheese
oven
Shredded Yellow Squash
Made with chicken-flavored bouillon granules, yellow squash, margarine, dried oregano, garlic powder
microwave