home > recipes > meals / dishes > side dishes > vegetables > vegetables D-Q > onions
Onions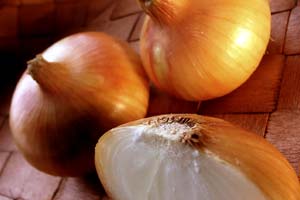 jump to the recipes

Onions are usually thought of as an add-in flavoring to another dish. Chopped, diced and sliced onions are found in ingredient lists in millions of recipes.

However, the onion is underused as the main ingredient. Onions can be baked, stuffed, glazed and caramelized. They can be deep fried or grilled, sauteed or boiled. They are so versatile and play well with many other flavors. They contain vitamins A, C, E and iron.

At the store, you'll find a variety of onions including white, red, yellow, sweet (like Vidalia or Walla Walla), green onions (scallions), spring onions, cippolini, shallots, pearl onions and others.
Onion Loaf
1 review
Made with oil, white onions, milk, eggs, salt, baking or pancake mix
oven, deep fryer
Green Pepper And Onion Skillet
1 review
Made with salt and pepper, onion, green pepper, garlic, olive oil, oregano or basil
stovetop
Candied Onions
Made with sugar, steak sauce, white onions, salt, margarine
stovetop
Baked Celery And Onions With Herbs
1 review
Made with onions, butter, celery, cornstarch, chicken broth, dried marjoram, dried thyme, salt, black pepper, fresh parsley
oven, stovetop
Marinated Tomatoes And Onions
Made with garlic, fresh oregano, tomatoes, red onion, olive oil, red wine vinegar, sugar, salt, black pepper, fresh parsley
French Onion Soup Casserole
Made with French bread, black pepper, Swiss cheese, soy sauce, onions, butter, cream of chicken soup, milk
oven, stovetop
Walla Walla Onion Pie
Made with single crust pie pastry, sweet onions, olive oil, butter, eggs, half and half, all-purpose flour, salt, black pepper, ground nutmeg
oven, stovetop
Fried Green Onions
Made with water, sugar, black pepper, salt, green onions including tops, chopped into small pieces (about 1/2"), bacon
Grilled Marinated Onions
Made with pecans, sweet onions, balsamic vinegar, walnut oil, honey, salt, fresh parsley
outdoor grill
Caramelized Onions
1 review
Made with salt, margarine or butter, onions
crock pot