home > recipes > meals / dishes > side dishes > vegetables > vegetables R-Z > tomatoes > green tomatoes
Green Tomatoes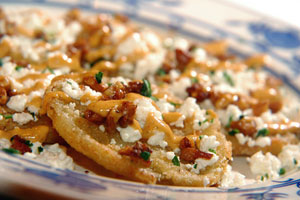 jump to the recipes

Green tomatoes are simply unripe red tomatoes. Because they are not ripe they do not have the same flavor as ripe tomatoes. They have a sharper, more piquant taste which is mellowed by cooking them.

You've undoubtedly heard of fried green tomatoes, and sure enough, it's our most popular type of recipe in this section. The tomatoes are sliced and breaded, then fried in oil. This is a favorite in southern US states. You can top them with cheese or serve with a dipping sauce.

Another good way to cook green tomatoes is in a casserole or pie. The longer cooking time helps mellow the flavor further. Green tomato pies usually have some sweetener like sugar or brown sugar added, along with some spices like cinnamon or nutmeg to balance out the tangy tomato flavor.

So if have a bumper crop of tomatoes, go ahead and pick some while they are still green and try some new recipes. Or, if you have to pick the tomatoes before they are fully ripe this is a great way to use them up as well.
Fried Green Tomatoes with Buttermilk Dipping Sauce
1 review
Made with kosher salt and freshly ground black pepper, all-purpose flour, garlic powder, eggs, milk, panko bread crumbs, cayenne pepper, paprika, apple cider
deep fryer
Baked Green Tomatoes
3 reviews
Made with green tomatoes, bread crumbs, olive oil, water, garlic, Parmesan cheese
oven
Green Tomato Casserole
1 review
Made with butter, breadcrumbs, green tomatoes, onion, lemon, salt, pepper and sugar
oven
Green Tomato Mincemeat
Made with nutmeg, green tomatoes, apples, sultanas, currants, vinegar, lemon rind, orange rind, sugar, cinnamon
stovetop
Green Tomato Pie
Made with bread crumbs, brown sugar, pie crust, green tomatoes, onions, butter, Swiss cheese, Muenster cheese, salt, black pepper
oven
Arkansas Fried Green Tomatoes
1 review 1 comment
Made with water, egg, salt and pepper, green tomatoes, cornmeal, all-purpose flour
stovetop
Grilled Green Tomatoes and Onions
Made with hot pepper flakes, salt, caraway seeds, sugar, green tomatoes, onion, vegetable oil, white vinegar, water
outdoor grill, stovetop