home > recipes > meals / dishes > side dishes > vegetables > vegetables D-Q > green beans
Green Beans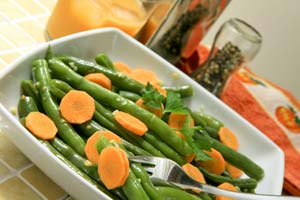 jump to the recipes

Green beans (also called string beans and Haricots verts) are low in fat and a good source of Vitamin C. They can be purchased canned, frozen or fresh. The classic American green bean casserole is popular at Thanksgiving and Christmas. Green beans can be used in casseroles, steamed, in salads, stir-fried and even grilled! With over 400 recipes to try you are sure to find something to accompany any meal and please any palate.
Crunchy Szechuan Green Beans
5 reviews
Made with sugar, canola oil, green beans, onion, hoisin sauce, soy sauce, sesame oil, water, garlic, fresh ginger
stovetop
Cracker Barrel Country Green Beans
4 reviews 1 comment
You won't believe how easy it is to copy this popular side dish from Cracker Barrel at home. The recipe is made with bacon, green beans, onion, and seasonings.
stovetop
Loubie Bzeit
1 review
Made with dried basil, salt, onion, olive oil, green beans, garlic, diced tomatoes, black pepper
stovetop
Pecan Green Beans
1 review
Made with pecans, butter, salt and freshly ground black pepper, green beans
stovetop
Roasted Sesame Green Beans
1 review
Made with sesame seeds, salt, olive oil, toasted sesame oil, honey, hot red pepper flakes, garlic, fresh ginger, green beans
oven
Wilted Green Beans With Basil
1 review
Made with bell peppers, red and yellow for garnish, salt and pepper, basil, balsamic vinegar, olive oil, green beans
Hot Green Beans And Artichokes
1 review
Made with lemon juice, red wine vinegar, Green beans, french cut, Artichoke hearts, drained, olive oil, fresh parsley, chives
Pistachio Green Beans
1 review
Made with coarsely chopped salted pistachio nuts (or toasted pine nuts), green beans, butter, black pepper
stovetop
Herbed Green Beans With Roasted Peppers
1 review
Made with pepper, salt, dried basil, butter or olive oil, whole green beans, frozen whole green beans, roasted red peppers, French fried onions, water
outdoor grill, oven
Dressed Up Green Beans
Made with kosher salt, sesame seeds, fresh green beans, shallot, garlic, butter, olive oil
stovetop
Balsamic Green Bean Salad
Made with toasted sesame seeds, balsamic vinegar, fresh green beans, red onion, flavored oil, lemon zest, lemon juice