home > recipes > meals / dishes > side dishes > vegetables > vegetables D-Q > fennel
Fennel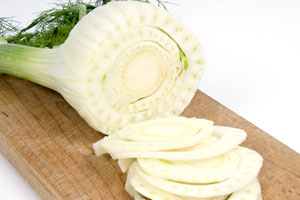 jump to the recipes

Fennel is often mislabeled as "anise" because it does have an anise-like flavor which mellows when cooked. The entire fennel plant is edible. The bulb can be used raw in salads, or braised or stir-fried. The stems make great seasoning for stocks and broths and can be finely chopped to use in cooking like celery. The ferny fronds make a nice garnish and can be used like dill weed.

To prepare fennel, cut the stems off where the bulb starts turning darker green. Then, cut like an onion by slicing it in half lengthwise (through the stem end). Trim and discard the bottom end. Place cut-side down and slice crosswise into crescent shaped slices.

Fennel is an excellent source of potassium and it also contains Vitamin C and folic acid.

If you can't get fresh fennel you can substitute celery or bok choy with one teaspoon of crushed fennel seeds per pound of vegetables. If you prefer less anise flavor, simply reduce the amount of fennel seeds when substituting.
Leek And Fennel Au Gratin
2 reviews
Made with black pepper, half and half, unsalted butter, fennel, leeks, Gruyere cheese
oven
Baked Fennel Au Gratin
1 review
Made with bread crumbs, parmesan or romano cheese, fennel bulbs, salt, black pepper, margarine or butter, all-purpose flour, half and half, light cream, or milk, swiss or gruyere cheese
oven, stovetop
Italian Fennel Casserole
1 review
Made with Cheddar cheese, fresh brown breadcrumbs, salt and freshly ground black pepper, fennel, oil, onion, garlic, tomatoes
oven, stovetop
Fennel And White Bean Salad
Made with black pepper, salt, hot red pepper sauce, olive oil, fennel bulb, shallot, garlic, white beans, lemon juice
stovetop
Fennel-Roasted Vegetables
Made with coriander seeds, fennel seeds, carrots, red onions, fennel bulb, zucchini, olive oil, sea salt, garlic
oven, stovetop
Roasted Fennel And Peppers
Made with black pepper, salt, bell peppers (any color), cut into 1/2" strips, fennel bulbs, cut into 1/2" wedges, olive oil
Fennel With Ginger
Made with black pepper, salt, fennel, garlic, olive oil, fresh ginger root, orange juice, fructose, if desired
Apple Juice Glazed Fennel And Baby Carrots
1 review
Made with salt and white pepper, chicken stock, fennel bulb, baby carrots, apple juice, butter
oven, stovetop
Fennel And Apple Salad
Made with pistachio nuts -- roughly chopped, dried pear halves -- thinly sliced lengthwise, black pepper, salt, vegetable or olive oil, cider vinegar, honey mustard, lemon, apple (such as Fuji or
Fennel Al Forno
Made with Italian-flavored bread crumbs, salt and freshly ground black pepper, canned Italian tomatoes, tomatoes, garlic, onion, olive oil, fennel bulbs
oven, stovetop
Wild Fennel Cakes
Made with peanut oil, olive oil, salt and black pepper, fennel fronds, eggs, parmesan cheese, bread crumbs, crushed red pepper
stovetop