home > recipes > meals / dishes > side dishes > vegetables > vegetables A-C > corn
Corn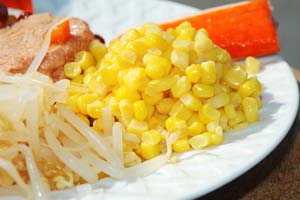 Corn is one of those vegetables that go well with a variety of main dish recipes. Try an easy corn casserole, tasty fried corn, or creamed corn like Grandma used to make.

Corn is a simple-tasting ingredient with a slightly sweet flavor. But don't let the sweetness fool you, this vegetable also goes great with spicy flavors. Add a little smoky chipotle, or maybe some cayenne. Or for an easy way to add a kick, some minced jalapeno.

Corn has a bright yellow color (unless you are using white corn, of course) which can be used to visually complement dishes. When serving unadulterated corn (in other words, just plain) I like to pair it with contrasting colored foods. If you serve it with white fish and mashed potatoes you get a pretty bland looking plate of food. But if you have some simple steamed broccoli and some pink-colored salmon, you have a very visually pleasing meal in front of you.
featured corn recipe
An unusual blend of dressing ingredients makes this corn salad a winner. It's made with honey mustard, Italian salad dressing, chili powder, corn, tomatoes, bell pepper, and red onion.
view recipe
corn recipes
Corn off-the-cob is fried with flour and seasonings.

view recipes

Scalloped corn typically consists of creamed and whole kernel corn baked in a creamy sauce with a crisp topping.

view recipes
Get our best recipes delivered right to you!
Sign up for our newsletters that feature hand-picked recipes