Carrots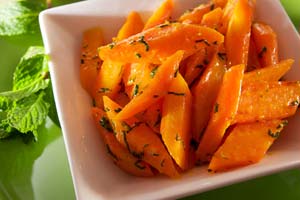 jump to the recipes

Did you know that carrots are actually part of the parsley family? Fresh carrots are rich in beta carotene, vitamin A and C. They are low in calories making them a healthy choice. Carrots can be purchased fresh, frozen or canned.
Brown Sugar-Glazed Carrots

9 reviews
Simple but delicious, carrots are glazed with brown sugar, butter, and orange peel.
stovetop
Glazed Baby Carrots

3 reviews
Made with parsley, baby carrots, butter, brown sugar
stovetop
Broccoli, Cauliflower & Carrots with Parmesan Bread Crumbs

3 reviews
Made with cayenne pepper, Parmesan cheese, broccoli, cauliflower, carrots, vegetable oil, butter, bread crumbs
oven, stovetop
Baby Parslied Carrots

1 review
Made with fresh parsley, baby carrots, butter or margarine, brown sugar, lemon juice
stovetop
Cumin Glazed Carrots

1 review
Made with black pepper, sea salt, honey, lemon juice, water, cumin, olive oil, carrots, cut diagonally into 1/2-inch-thick slices
Roasted Carrots And Leeks

2 reviews
Made with salt and freshly ground black pepper, carrots, leeks, olive oil, dried tarragon
oven, stovetop
Sweet-Orange Roasted Baby Carrots

1 review
Made with ground cinnamon, salt, canola oil, orange juice, orange zest, freshly grated, carrots
Carrots with Ginger-Lime Sauce

1 review
Made with fresh ginger root, carrots, butter, salt, sugar, lime, lime zest, cornstarch
stovetop
Oven-Roasted Carrots And Turnips

1 review
Made with salt and pepper, olive oil, carrots, turnips
oven
Easy Glazed Carrots

2 reviews
Made with butter, carrots, white granulated sugar
microwave