home > recipes > meals / dishes > dinner meals > meat and poultry dishes > pork and ham dishes > ham > spam
Spam Luncheon Meat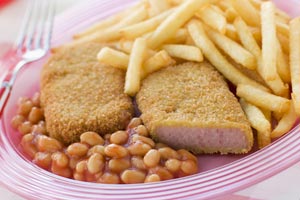 jump to the recipes

This kind of spam won't clog up your email!

In 1926 the Hormel Company (located in my home state of Minnesota) created a canned seasoned pork product called "Spiced Ham". It was made from finely ground pork that was seasoned and cooked right in the can. It was widely distributed and eaten in World War II because it was not rationed. I remember my dad saying he couldn't even look at it after eating so much of it during the war. In 1937, the Hormel Company had a contest with a grand prize of $100 for coming up with a new name for the product. A chef named Keith Daugneau came up with the name Spam - a combination of the words "spiced" and "ham".

While it has mixed popularity here in the U.S. (either you love it or hate it), it has become a staple in some other countries. For example, it is widely used in Filipino dishes. Spam has evolved to include many versions of the original product (which is still their most popular item). New versions include low-sodium, smoked, turkey, spicy and other flavors.

Spam can be used much like regular cooked or canned ham. Its funny name and somewhat acquired taste has made it popular in everything from pizza to sushi. It can be fried, grilled, baked - even deep fried.
Egg And Spam Breakfast Sandwiches
2 reviews
Made with bagels, American cheese, spam, butter or margarine, eggs
stovetop
Spam Fried Rice
Made with white rice, black pepper, soy sauce, Spam, vegetable oil, onion, eggs, jalapeno pepper, carrot, boy choy
stovetop
Spam Casserole
Made with cream of mushroom soup, evaporated milk, garlic powder, elbow macaroni or egg noodles, Spam, Cheddar cheese, onion, seasoning, salt and pepper
oven, stovetop
Country Spam Casserole
1 review
Made with Parmesan cheese, Spam luncheon meat, onion, frozen mixed vegetables, instant mashed potatoes, cream of potato soup, chives and onion cream cheese
oven, stovetop
Cheesy Spam Rolls
2 reviews
Made with luncheon meat, hard-boiled eggs, French rolls, cheese, tomato sauce, onion, ripe olives
oven
Spam Spread
Made with salad dressing or mayonnaise, Spam, onion, pickle relish, salt and pepper
New Mexican Spam Soup
Made with cheddar cheese, refried beans, Spam, onion, celery, garlic, chicken broth, green chiles, chili powder
stovetop
Spam Quiche
1 review 2 comments
Made with monterey jack cheese, eggs, Spam, onion, green bell pepper, black pepper, oil, milk, baking mix
oven, stovetop
Loco Moco
Made with brown gravy, white rice, water, Spam, eggs
stovetop
Spam And Gravy On Biscuits
Made with milk, black pepper, flour, refrigerated large buttermilk biscuits, Spam luncheon meat, onion, butter or margarine
oven, stovetop
Spam Bites
Made with sour cream, ranch salad dressing, sweetened corn cereal, butter flavored crackers, garlic powder, onion powder, Spam Classic, egg, processed cheese
microwave, oven
Spam Pizza
Made with mozzarella cheese, pizza crust, onion, green bell pepper, mushrooms, vegetable oil, Spam, spaghetti sauce
oven, stovetop