home > recipes > meals / dishes > dinner meals > fish and seafood dishes > seafood > squid
Squid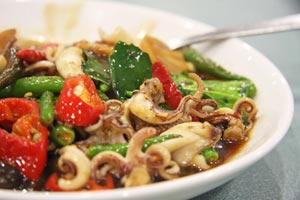 jump to the recipes

Squid has gained popularity in the US since bars and restaurants boldly started adding deep-fried calamari to their appetizer menus. A long time Italian and Asian favorite, squid really hasn't taken off otherwise here in the US. It's a strange looking saltwater creature (a mollusk, actually) with tentacles and a beak. Yes, it has a beak.

The meat itself is firm and chewy and slightly sweet in flavor. You can purchase full squid tentacles (tubes) that can be stuffed, or get it pre-sliced in rings that work in stir fry dishes or that can be battered and deep-fried.

Squid will be tough if you cook it improperly. You must, and I mean MUST, cook it one of two ways: either fast with high heat such as in deep-frying or stir-frying; or, it must be cooked low and slow, at least an hour in liquid over very low heat (braising). Anything else will turn that lovely squid into a rubber-band like texture.

You can purchase squid fresh, frozen or canned. When buying it fresh, expect about 3 squid per pound. Squid are rich in protein and phosphorus.

Squid can sometimes be hard to find in your typical supermarket. You can substitute cuttlefish or baby octopus in place of it in most recipes that call for the sliced rings.
Braised Veal-Stuffed Calamari
1 review
Made with squid tubes, bread crumbs, heavy cream, ground veal, shallot, fresh parsley, parsley stems, lemon zest, kosher salt, black pepper
stovetop
Calamari Piccata
1 review 1 comment
Made with calamari steaks, onion, garlic, green onions, olive oil, flour, salt and pepper, capers, butter, lime juice
stovetop
Arros Negre (Rice With Squid Ink)
Made with squid ink, salt, Spanish paella rice or short-grain Italian rice, olive oil, squid, tomatoes, yellow onion, garlic, fish stock, sweet paprika
stovetop
Calamari Calabrese
Made with sage, butter, white wine, flour, milk, salt and freshly pepper, onion, red pepper flakes
stovetop
Spaghetti con Calamari
Made with salt and pepper, spaghetti or perciatelli, butter or virgin olive oil, Italian plum tomatoes, onion, squid, fresh thyme, fresh oregano, fresh marjoram, basil
stovetop
Mediterranean Squid Stew
Made with baby artichokes, white wine, Canned imported tomatoes; coarsely chopped and drained, fresh thyme, Garlic; cut into very thin slices, onion, olive oil, Cleaned squid; bodies cut into
Saute of Squid, Shrimp and Eggplant
Made with chili powder, eggplants, salt, squid, shrimp, red bell pepper, green bell pepper, tomatoes, olive oil, garlic
stovetop
Oriental Squid Stir-Fry
Made with sesame oil, lemongrass, fresh squid, baby corn, shiitake mushrooms, coconut milk, mild red chili, garlic, fresh coriander
stovetop
Squid Meatballs
Made with olive oil, breadcrumbs, squid, olive oil -- for the sheet, eggs, onion, garlic, dried oregano, fresh parsley, grated romano or parmesan
Spicy Calamari - Brazilian Style
Made with fresh parsley, green bell pepper, red bell pepper, tomatoes, fish bouillon, water, black pepper, onion, bay leaves, squid rings
Calamari In Tomato Sauce
Made with red wine, salt, parsley, tomato sauce, red chili peppers crushed, garlic, oil, frozen calamari (squid) thawed and cleaned