home > recipes > meals / dishes > dinner meals > fish and seafood dishes > seafood > shrimp
Shrimp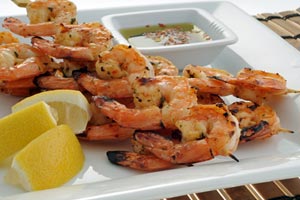 Shrimp are tasty little crustaceans that come in a variety of sizes measured by how many shrimp there are in a pound. The largest size is the "Extra Colossal" which contains about 5 shrimp per pound. The smallest size shrimp is the "Extra Small" which contains about 65 shrimp per pound. Different recipes will call for different size shrimp and you should always try to get as close as possible to the size called for in the recipe.

Different size shrimp will require different cooking times also. Shrimp cooks quickly and will become rubbery and tough if over cooked. You can usually tell if it is cooked when it turns opaque with a pink tint, and they will start to curl into a "C" shape. Shrimp can be fried, broiled, baked, and grilled and can be served as appetizers, entrees, in soups and more.
featured shrimp recipe
Made with garlic powder, shrimp, olive oil, white wine, poultry seasoning, cayenne pepper, white pepper, onion powder
view recipe
shrimp recipes
Shrimp is very quick cooking and can be baked with other quick cooking ingredients like other seafood or vegetables.

view recipes

A shrimp boil is a great way to cook shrimp along with other ingredients. Add longer cooking items like potatoes or sausage first, then add your seafood towards the end. A spice blend is added that will season and tenderize all the food at once.

view recipes

Shrimp can be battered or coated with bread crumbs and fried. Serve with a spicy dipping sauce.

view recipes
Get our best recipes delivered right to you!
Sign up for our newsletters that feature hand-picked recipes
search the shrimp recipes