Shrimp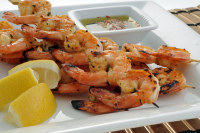 Shrimp are tasty little crustaceans that come in a variety of sizes measured by how many shrimp there are in a pound. The largest size is the "Extra Colossal" which contains about 5 shrimp per pound. The smallest size shrimp is the "Extra Small" which contains about 65 shrimp per pound. Different recipes will call for different size shrimp and you should always try to get as close as possible to the size called for in the recipe.

Different size shrimp will require different cooking times also. Shrimp cooks quickly and will become rubbery and tough if over cooked. You can usually tell if it is cooked when it turns opaque with a pink tint, and they will start to curl into a "C" shape. Shrimp can be fried, broiled, baked, and grilled and can be served as appetizers, entrees, in soups and more.
Slow Low Country Boil
Made with medium shrimp, water, Old Bay or other spicy seasoning, kosher salt, celery, yellow onion, garlic, red potatoes, ears corn, smoked sausage
crock pot
Low Country Boil
Made with Old Bay seasoning, shrimp, hot Italian sausage, new potatoes, onion, ears corn
stovetop
Outback Steakhouse Coconut Shrimp
Made with orange marmalade, shrimp, all-purpose flour, cornstarch, salt, white pepper, vegetable oil, water, oil, shredded coconut
deep fryer, electric skillet/wok
Stir-Fried Chicken And Shrimp
Made with vegetable oil, boneless chicken breasts, bok choy or Chinese cabbage, bamboo shoots, mushrooms, onion, green pepper, carrot, shrimp, chicken stock
stovetop
Grilled Shrimp Fajitas
Made with cheddar cheese, tomato, lettuce, bacon, shrimp, green bell pepper, red bell pepper, onion, barbecue sauce, flour tortillas
outdoor grill, oven, stovetop
Baked Shrimp In Butter Sauce
Made with medium shrimp, lemons, butter, black pepper, Worcestershire sauce, salt, garlic, hot pepper sauce
stovetop, oven
Shrimp Creole
A slow cooked version of authentic shrimp creole made with the holy trinity (celery, onion, bell pepper), tomatoes and tomato sauce, garlic, Tabasco, and shrimp all served over hot rice.
crock pot