Crab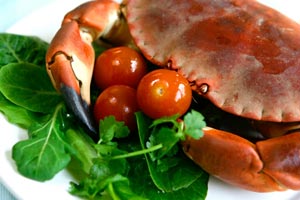 jump to the recipes

These 10-legged sea spiders have become one of the most popular crustaceans in US dining (only second to shrimp). There are over 4000 types of crab, and there are more in North America than anywhere else in the world (which probably accounts in part for their popularity here).

The edible part of the crab varies by the species. On some, only the claws and legs are edible while others have additional edible portions. It's available fresh, frozen, or canned and can be used in a myriad of ways. You can flake it and use it in savory crab cakes, or steam the giant King Crab legs and serve with clarified butter. It also is great cooked and chilled in salads, deep fried in its shell (certain varieties), mixed in casseroles - well, the possibilities are endless.

Crab is so widely used in cooking that imitation crab was developed (which is usually made from surimi) as a lower cost alternative and stays fresh longer. You can substitute imitation crab in many recipes.

Crab is very low in fat, about 1 gram per 3.5 ounce serving. It's also rich in vitamin B12 and niacin.
Easy California Roll Sushi

2 reviews
Made with soy sauce, avocado, mayonnaise, nori, Japanese rice, white vinegar, sugar, imitation crab
Crab Pasta Casserole

6 reviews 1 comment
Made with basil, salt, sour cream, pasta, onions, fresh mushrooms, green bell pepper, garlic, butter, crab meat
oven, stovetop
Joe's Crab Shack's Etouffee

4 reviews
Made with salt, cayenne pepper, paprika, Worcestershire sauce, dry mustard, cream of mushroom soup, water, cream of celery soup, crawfish meat, cubed chicken breast or raw shrimp , parsley
stovetop
Imitation Lobster Rolls
Made with lettuce, imitation crab meat, hot dog buns, mayonnaise, green onion, garlic powder, black pepper
stovetop
Avocado And Crab-Meat Sushi

2 reviews
Made with water, rice vinegar, sugar, dry sherry, salt, avocado, lemon juice, nori sheets, cucumber, King crab meat
stovetop
Crab Meat and Mashed Potato Enchiladas in Sweet Red Pepper Sauce

1 review
A unique combination of crab meat, roasted red peppers, potatoes, peas, and blue cheese.
oven, stovetop
Columbia Restaurant's Ybor City Deviled Crab Rolls

3 reviews 2 comments
Made with olive oil or vegetable oil, onions, bell pepper, garlic, red pepper flakes, bay leaves, sugar, salt, tomato paste, fresh claw crab meat
deep fryer
Crab Stuffed Crepes

2 reviews
Made with butter, green onion, crab meat, salt and pepper, garlic powder, dry vermouth, cornstarch
Imitation Crabmeat Au Gratin

3 reviews
Made with cajun spice seasoning, bell pepper, onion, margarine, flour, evaporated milk, egg yolks, imitation crabmeat, cheddar cheese
oven, stovetop
Simple Crab Dinner
Made with rice or pasta, crab meat, cream of shrimp soup, Worcestershire sauce, Cheddar cheese
stovetop
Ladies Luncheon Favorite

1 review 2 comments
Made with sour cream, pastry shells, crab meat, water chestnuts, ripe olives, green onions or chives, almonds, salad dressing, celery, garlic salt
oven
Imitation Crab Casserole

1 review
Made with bread crumbs, paprika, flour, imitation crab, butter, milk, Parmesan cheese
oven, stovetop