home > recipes > meals / dishes > dinner meals > fish and seafood dishes > seafood > crab
Crab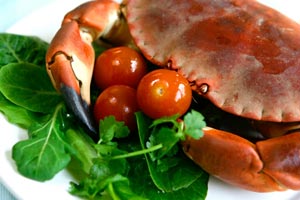 jump to the recipes

These 10-legged sea spiders have become one of the most popular crustaceans in US dining (only second to shrimp). There are over 4000 types of crab, and there are more in North America than anywhere else in the world (which probably accounts in part for their popularity here).

The edible part of the crab varies by the species. On some, only the claws and legs are edible while others have additional edible portions. It's available fresh, frozen, or canned and can be used in a myriad of ways. You can flake it and use it in savory crab cakes, or steam the giant King Crab legs and serve with clarified butter. It also is great cooked and chilled in salads, deep fried in its shell (certain varieties), mixed in casseroles - well, the possibilities are endless.

Crab is so widely used in cooking that imitation crab was developed (which is usually made from surimi) as a lower cost alternative and stays fresh longer. You can substitute imitation crab in many recipes.

Crab is very low in fat, about 1 gram per 3.5 ounce serving. It's also rich in vitamin B12 and niacin.