home > recipes > meals / dishes > dinner meals > fish and seafood dishes > seafood
Seafood Dinners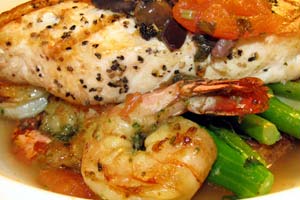 Delicious seafood recipes like Bonefish Grill's Bang Bang shrimp, Red Lobster shrimp scampi, baked mussels in garlic butter sauce, frog legs, fried scallops, Cajun grilled shrimp, and Creole crawfish Monica.

Fun Food Holiday: October is National Seafood Month.
featured seafood recipe
Can't make it to Maine for an authentic lobster roll? No problem, this cheater's version uses imitation crab meat instead of lobster.
view recipe
seafood recipes
Shrimp can be fried, broiled, baked, and grilled and can be served as appetizers, entrees, in soups and more.

view recipes

Yes, they do taste like chicken! Frog legs are a French delicacy but are eaten all over the world. They are typically battered and fried or sauteed.

view recipes

Crawfish look like cute miniature lobsters and are often found in Cajun or Creole cooking. They can be used similarly to shrimp in many recipes as they are quick cooking and have a tender texture.

view recipes
Get our best recipes delivered right to you!
Sign up for our newsletters that feature hand-picked recipes
search the seafood recipes