BROWSE
RELATED
Cook Time
Cook Method
Cooking Articles:
Recipe Newsletter
Cooking With Rice and Grains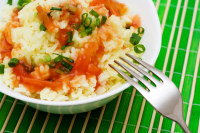 So many cultures use rice in their cooking. Japan has sushi rice, India has basmati, Italy uses arborio in risotto, China uses long grain in its fried rice, and the list goes on. In addition to the ever versatile rice we also have recipes for couscous, tabouleh, quinoa and other grains.
French Onion Rice
2 reviews

Ingredients: beef broth, condensed French onion soup, white rice, butter
oven
Show Dish Data™ ▼
Vegetarian Feijoada
"It turned out very well. My quantities were not exact. I used a half cup more green and red pepper, a pretty good pour of molasses, a large orange no frozen, a lot of garlic and loved it. I think the orange and molasses it what made the recipe -DAVIDPM"
Ingredients: crushed tomatoes, black beans, celery, jalapeno pepper, red bell pepper, green bell pepper, dried oregano, cumin, garlic, onion
stovetop
Show Dish Data™ ▼
Artichoke, Mushroom, and Wild Rice Casserole with Almonds
2 reviews

Ingredients: almonds, shredded smoked gouda (or any white cheese), cream of mushroom soup, Parmesan cheese, black pepper, jar (small) marinated artichoke hearts, drained, salt, dried thyme, dry oregano
Chicken And Wild Rice Casserole
Ingredients: water, onion soup and dip mix, cream of chicken soup, cream of celery soup, (6 oz. size) long grain and wild rice, boned chicken breasts (or any pieces you like)
Cranberry Wild Rice
2 reviews

Ingredients: chicken broth, wild rice, butter, onion, celery, apple, peeled, cored, and diced, thyme, sage, salt, dried cranberries
Show Dish Data™ ▼
Mushroom Almond Wild Rice Casserole
1 review

Ingredients: bacon*, chopped, mushrooms, wild rice, green onions, white wine, almonds, chicken broth
Easy Cranberry Wild Rice
1 review

Ingredients: onion, butter, cranberry sauce, (6 oz. size) long grain or wild rice mix (such as Uncle Ben's), celery, shallots
Brown Rice
2 reviews

Ingredients: salt, brown rice, water
crock pot
Show Dish Data™ ▼
Uncle Bens Seasoned Long Grain & Wild Rice Mix
2 reviews

Ingredients: seasoned salt, black pepper, ground ginger, cumin, ground turmeric, onion powder, garlic powder, dry minced parsley, dry chopped onion, chicken bouillon granules
stovetop
Show Dish Data™ ▼
Homemade Rice-A-Roni
4 reviews

Ingredients: butter or margarine, beef or chicken bouillon, angel hair pasta, rice, onion, water
stovetop
Show Dish Data™ ▼