Pork Ribs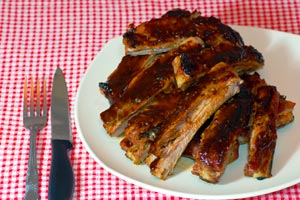 Pork ribs come in a variety of cuts including baby back, country style and spareribs. Ribs can be made on the grill or in the oven and are delicious with or without sauce or baste. You can even make pork ribs in the crockpot.
CDKitchen's Recommended Recipes
Cola Spareribs
These spareribs are slow cooked until they are wonderfully tender. The glaze is a mixture of ketchup and cola which gives them a tang with a hint of sweetness. Pickling spices in the cooking liquid add additional flavor to the meat.
get the recipe →
Easy Grilled Baby Back Ribs
Baby back ribs are coated with a dry rub made with brown sugar, paprika, chili powder, black pepper, garlic powder and salt. The original directions are for grilling the ribs but we included oven directions in our review.
get the recipe →
Get our best recipes delivered right to you!
Sign up for our newsletter that features hand-picked recipes