home > recipes > meals / dishes > pasta dishes > ravioli
Ravioli Pasta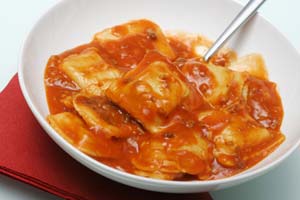 jump to the recipes

Ravioli are small squares or circles of pasta that are filled with meat, cheese, or vegetables. It's made by using flat sheets of pasta, placing a filling on top, and then covering and sealing with another sheet of pasta. They basically become little filled pillows. They are cooked in boiling water and then either served with a sauce (tomato, cream, or cheese sauces all work well), or they can be baked with sauce and topped cheese in a casserole dish.

valerie says: There is some debate about where ravioli originated from. Some say it came from Genoa, Italy where the word "rabioli" means "rubbish", "odds and ends", or "bits and pieces" (depending on the source). It was a way to use up leftover ingredients. Others debate that ravioli came from Cremona and evolved from the Latin word, "ravoglere", which means "to wrap". Agnolotti are also ravioli but they are formed in a crescent shape instead (somewhere between a ravioli and tortellini).

Regardless of its origins, it's not completely unique to Italy. Other cultures have foods similar to the ravioli. For example, in Chinese cuisine there are wontons. They are very thin sheets of pasta that are filled with meat or vegetables and then fried. Jewish cooking has "kreplach" which is a small dumpling-like noodle dough that is filled with something savory (usually served in soup) and eaten on holidays.

If you are not making the ravioli from scratch, you can purchase it pre-filled, either fresh or frozen.

Cooking Tip: When boiling the ravioli, take care when removing them from the liquid. Use a large slotted spoon to gently remove them so they don't tear.
Beef Ravioli
6 reviews 1 comment
Made with flour, eggs, water, salt, olive or salad oil, onion
stovetop
Baked Ravioli And Meatballs
1 review
Made with dry Italian seasoning, mozzarella cheese, frozen cheese ravioli, frozen cooked 1" meatballs, pasta sauce
oven
Ravioli Meal
Made with mozzarella cheese, water, beef or cheese ravioli, pasta sauce, tomato sauce
crock pot
Baked Ravioli And Sausage
Made with mozzarella cheese, bulk hot Italian sausage, spaghetti sauce, frozen cheese ravioli, sliced mushrooms
stovetop, oven
All-Day Ravioli Stew
2 reviews
Made with ravioli, carrots, onions, vegetable broth, diced tomatoes, cannellini beans
crock pot
Creamy Ravioli and Broccoli
Made with frozen beef ravioli, crushed red pepper, bacon bits, real, not imitation, olive oil, ricotta cheese, Parmesan cheese, broccoli flowerets
Garden Ravioli
2 reviews
Made with salt, dried oregano, dried basil, frozen cheese ravioli, butter, garlic, fresh parsley, Parmesan cheese, olive oil, water
stovetop
Beef Ravioli With Quick Tomato Sauce
3 reviews
Made with Parmesan cheese, beef ravioli, fresh basil, olive oil, garlic, tomatoes, water, salt and pepper
stovetop
Gastronomia Italiana's Lobster Ravioli with Crabmeat Cream Sauce
2 reviews
Made with salt, black pepper, chives, egg white, butter, shallots, Maryland crabmeat, cognac, tomato sauce
stovetop
Oven-Baked Ravioli
1 review
Made with mozzarella cheese, water, pasta sauce, frozen cheese ravioli
oven
Olive Garden Cheese Ravioli with Fresh Vegetables
1 review
Made with salt and freshly cracked pepper, parsley, cheese ravioli, olive oil, garlic, roasted red peppers, zucchini, black olives, chicken broth, Parmesan cheese
stovetop
Cheese-Filled Ravioli
2 reviews 1 comment
Made with water, all-purpose flour, ricotta cheese, eggs, parsley, Romano cheese, salt and pepper
stovetop