home > recipes > meals / dishes > pasta dishes > orzo
Orzo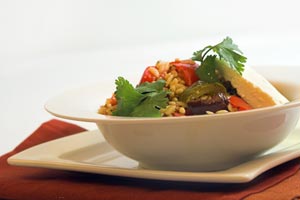 jump to the recipes

In Italian, orzo means "barley". It's a small, rice shaped pasta typically made from semolina. Acini de pepe is similarly shaped but smaller in size.

Orzo is commonly found in soups or salads but it's grown in popularity and uses over the last few years. Now you even see it used more like rice such as in risotto or pilafs.

Like other pastas, orzo is a blank canvas to which you can add any myriad of flavors and other ingredients. Orzo with chicken is very popular as is shrimp and orzo.

Since it's a tiny pasta it does cook quickly. If being used in a casserole dish where the mixture will be baked further, you will want to only cook the pasta about 2/3rds of the way since it will continue cooking in the oven.
Spinach Parmesan Orzo
1 review
Made with black pepper, orzo pasta, salt, Parmesan cheese, olive oil, garlic, spinach
stovetop
Orzo With Roasted Vegetables
6 reviews
Made with garlic, orzo, lemon juice, olive oil, kosher salt, black pepper
oven, stovetop
Asiago Garlic Orzo Pilaf
3 reviews
Made with chicken broth, orzo pasta, garlic, Asiago cheese, salt, black pepper
stovetop
Baked Orzo With Fontina
1 review
Made with chicken broth, orzo pasta, butter, onion, mushrooms, marsala wine, heavy cream, fontina cheese, mozzarella cheese, peas
oven, stovetop
Tropical Orzo, Rice And Spinach
Made with baby spinach, pine nuts, kosher salt, orzo, olive oil, basmati or arborio rice, mango nectar, beef stock, balsamic vinegar, water
stovetop
Lemon Orzo with Herbs
Made with parsley, chicken broth, lemons, orzo pasta, olive oil, black pepper, salt, dill
stovetop
Chicken Orzo
1 review 1 comment
Made with dried oregano, orzo, olive oil, boneless skinless chicken breasts or thighs, prosciutto, onion, garlic, white wine, diced tomatoes, cilantro
stovetop
Parmesan Orzo Primavera
3 reviews
Made with Parmesan cheese, chicken broth, orzo pasta, fresh vegetables
stovetop
Parmesan Orzo
Made with black pepper, orzo pasta, butter, Parmesan cheese
stovetop
Orzo And Portobello Mushrooms
Made with salt and crushed red pepper, portabello mushrooms, orzo, sun-dried tomatoes, garlic, capers, thyme, oregano, marjoram, white wine
stovetop
Orzo With Veggies
Made with eggplant, onion, orzo pasta, vegetable stock, zucchini, carrot
stovetop