Linguine Pasta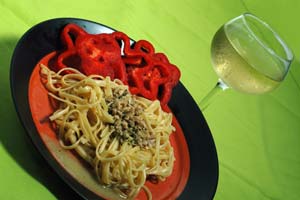 jump to the recipes

Similar to spaghetti noodles this pasta works well with all kinds of sauces.
Salmon in Cream Sauce over Pasta

11 reviews
Made with fresh parsley, nutmeg, linguini, butter, frozen peas, heavy whipping cream, salmon, Parmesan cheese, salt and pepper
stovetop
Red Lobster Shrimp Pasta

18 reviews 3 comments
Made with dried basil, parsley, lemon juice, olive oil, garlic, shrimp, clam juice or chicken broth, white wine, heavy cream, Parmesan cheese
stovetop
Rainforest Cafe Maya Pastalaya

4 reviews 2 comments
Made with shrimp, andouille sausage, green bell peppers, red onions, roma tomatoes, Cajun seasoning, seafood stock, butter, Worcestershire sauce
stovetop
Garlic Salmon Linguine

5 reviews
Made with cayenne pepper, salt, linguine pasta, garlic, olive oil, salmon, chicken broth, fresh parsley
stovetop
Linguini With Shrimp And Bay Scallops In A Creamy Tomato Vodka Sauce

2 reviews
Creamy tomato-vodka sauces go great with seafood and this recipe is no exception. Served with linguine pasta this makes a great meal.
stovetop
Chicken Scampi With Linguine

7 reviews
Made with egg, breadcrumbs, Parmesan cheese, salt, black pepper, vegetable oil, linguine, butter, garlic, lemon juice
stovetop
Lobster Saute with Linguine

1 review
Made with green onions, lobsters, linguine, butter, onion, garlic, mushrooms, white wine, tomatoes, plain yogurt
stovetop
Shrimp Linguine With Basil-Garlic Butter

1 review
Made with asiago cheese, linguine pasta, olive oil, shrimp, garlic, fresh basil, butter
stovetop
Red Pepper Pesto Sirloin and Pasta

1 review
Grilled steak is served on a bed of pasta tossed with homemade pesto made with roasted red peppers, walnuts, basil, and parmesan cheese.
outdoor grill, oven, stovetop
Skillet Chicken & Broccoli

3 reviews
Made with black pepper, Parmesan cheese, linguine, broccoli florets, butter, boneless, skinless chicken breast halves, cream of mushroom soup, milk
stovetop
Garlic Shrimp Linguine

4 reviews 2 comments
Made with shrimp, salt and pepper, linguine pasta, butter, white wine, Parmesan cheese, garlic, fresh parsley
stovetop
Creamy Zucchini With Linguine

2 reviews
Made with Parmesan cheese, fresh parsley, whole milk, olive oil, zucchini, garlic, salt, red pepper flakes, linguine pasta
stovetop