Fettuccine Pasta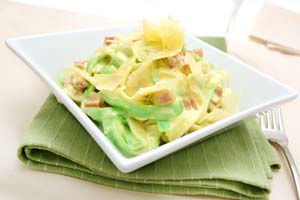 jump to the recipes

Wider than spaghetti noodles, this pasta works well with heavier sauces like Alfredo.
California Pizza Kitchen Chicken Tequila Fettuccine

23 reviews 1 comment
Made with spinach fettuccine, fresh cilantro, cilantro, garlic, jalapeno pepper, butter, chicken stock, tequila, lime juice, soy sauce
stovetop
Shrimp And Chicken Fettuccine Alfredo

1 review
Made with Parmesan cheese, butter, egg yolk, shrimp, fettuccine noodles, boneless chicken breasts, half & half or light cream
oven, stovetop
Olive Garden Fettucine Alfredo

23 reviews 3 comments
Another take on Olive Garden's Alfredo sauce recipe. This one uses cream cheese, milk, butter, and Parmesan cheese.
stovetop
Cajun Chicken Alfredo

3 reviews
Made with boneless skinless chicken breast halves, Cajun seasoning, butter or margarine, green onion, heavy cream, dried basil, lemon-pepper seasoning, salt, black pepper, garlic powder
stovetop
Fettuccine Alfredo With Salmon

2 reviews
Made with spinach fettuccine, Parmesan cheese, salmon fillet, non-stick cooking spray, black pepper, margarine, garlic, all-purpose flour, skim milk
oven, stovetop
Steak Lover's Fettuccini Alfredo

3 reviews
Made with clarified butter, beef tenderloin tips, broccoli florets, red bell pepper, portabella mushroom, corn, scallions, garlic, heavy cream, Parmesan cheese
stovetop
Scallops Fettucini Alfredo

2 reviews
Made with butter or margarine, fettucini, linguini or angel hair pasta, bay scallops, frozen peas, fresh mushrooms, mushrooms, onion, celery, cornstarch or flour
stovetop
Alfredo Sauce

14 reviews 1 comment
A traditional Alfredo sauce with the inclusion of cooked shrimp. Served over fettuccine or angel hair pasta.
Lobster Fettuccine

2 reviews 1 comment
Made with white wine, red onion, red and green bell peppers, fettuccini pasta, lobster, olive oil, garlic, basil, Asiago or Parmesan cheese, heavy cream
stovetop
Easy Chicken Alfredo

4 reviews
Made with black pepper, Parmesan cheese, fettuccine pasta, broccoli flowerets, butter, skinless boneless chicken breast halves, cream of mushroom soup, milk
stovetop
Garlic Chicken Alfredo

4 reviews
Fix and forget with this easy recipe made with boneless chicken, Alfredo sauce, garlic, mushrooms, and fettuccine pasta.
stovetop, crock pot
Chicken Alfredo Primavera
Made with garlic, chicken breasts, broccoli, cauliflower, carrots, celery, scallions, onions, mushrooms, tomatoes
stovetop