home > recipes > meals / dishes > dinner meals > meat and poultry dishes > pork and ham dishes > ham
Ham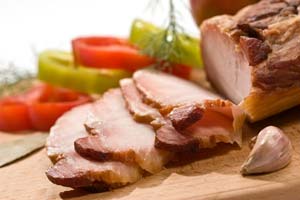 There are many cuts of ham available from whole hams, shoulder or picnic cuts, ham hocks, steaks and the list goes on. Of course, here at CDKitchen we have recipes for them all. We even have recipes to use pre-cooked or leftover ham. We even have recipes for Spam!
featured ham recipe
Made with smoked ham half, honey, molasses, bourbon, orange juice, Dijon mustard
view recipe
ham recipes
Like other cured ham, ham steaks work well with spicy, savory and sweet flavors. They are served commonly for dinner but also used as a breakfast meat.

view recipes
Get our best recipes delivered right to you!
Sign up for our newsletters that feature hand-picked recipes