home > recipes > meals / dishes > dinner meals > meat and poultry dishes > pork and ham dishes > ham > ham steaks
Ham Steaks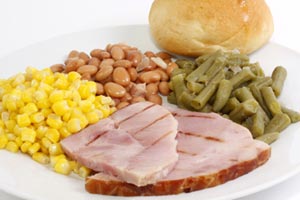 jump to the recipes

Ham steaks are a center-cut slice of ham from the upper portion of the pig's hind leg. In England they call this cut "gammon" which is from the French word gambe which means "leg".

The ham is usually smoked and cured and often sold fully cooked. Ham steaks can be used in any recipe calling for cooked or cured ham. Because of the shape, the steaks are nice for pan-frying or grilling. They are usually 1/2 to 1- inch thick and sometimes have a small bone that is easily removed.

Like other cured ham, they work well with spicy, savory and sweet flavors. They are served commonly for dinner but also used as a breakfast meat. Any glazes or sauces you use on a whole ham can also be used to enhance the ham steaks.
Honey Glazed Ham
1 review
Ham steaks are topped with a glaze containing honey, mustard, ginger, and cloves.
stovetop
Cajun Ham Steak
Made with fresh cilantro, Cajun seasoning blend, sugar, fully cooked smoked ham steak, lime
stovetop
Sauteed Ham Steak With Pineapple
Made with salt and freshly ground black pepper, ham steaks, butter, whole-grain mustard, pineapple chunks, orange juice, Dijon mustard
stovetop
Ham Steaks
Made with ham steaks, maple syrup, balsamic vinegar
stovetop
Ham Steaks With Southwest Rub
1 review
Made with center-cut ham steaks, butter, chili powder, kosher salt, dried oregano, cayenne pepper, brown sugar, black pepper
outdoor grill
Braised Ham Steak
1 review
Made with ham steak, soy sauce, sherry wine, butter, ginger, water, salt and freshly ground black pepper, green onions
stovetop
Baked Ham Steaks With Shredded Sweet Potatoes
1 review
Made with raisins, maple syrup, sweet potatoes, pineapple or orange juice, ham steak
oven, stovetop
Apple-Topped Ham Steak
1 review
Made with black pepper, fully cooked ham steak, onion, apple juice, Dijon mustard, green apples, red apples, cornstarch, water, fresh sage
stovetop