home > recipes > meals / dishes > dinner meals > meat and poultry dishes > wild game > quail
Quail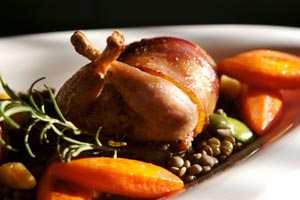 jump to the recipes

Quail is one of the smaller game birds. They have white meat and a mild flavor. They can be cooked like most other game birds in that they can be roasted, grilled, fried, baked, or broiled.

Because they are so small you should typically plan on two or three per serving as an entree or a single quail as an appetizer. You'll often find recipes for butterflied quail - they cook quickly this way and are easier to eat because of their small size.

Like other game birds they take well to a variety of seasonings. Asian flavors are popular like five spice or a soy based sauce. You'll also find fruit sauces like apricot or pomegranate commonly used.
Quail Casserole
Made with cream sherry, chicken stock, flour, quails, salt, butter or margarine, paprika, mushrooms, artichoke hearts
oven, stovetop
Five-Spice Quail
Made with garlic, oyster sauce, fish sauce, white pepper, vegetable oil, five-spice powder, quail, kosher salt, Szechuan peppercorns, lime
outdoor grill, oven, stovetop
Roasted Quail
Made with sprigs fresh curly parsley, quail (8 1/4-pound size), lemon, olive oil, cumin, salt and freshly ground black pepper, chicken stock
Marinated Quail
Made with quail, bacon drippings, white wine vinegar, red burgundy, celery salt, lemon pepper seasoning, onion salt, allspice, sage
outdoor grill, oven
Apricot Basted Quail
2 reviews 1 comment
Made with Worcestershire sauce, honey, quails, bacon, apricot jam, dried apricots, white wine
oven, stovetop
Pan Roasted Quail
Made with polenta or mashed potatoes, white wine, quail, pancetta, sage, butter, vegetable oil, salt, black pepper
stovetop
Quail in Browned Rice
Made with mushroom soup, chicken bouillon cubes, celery, bell pepper, onion, rice, shortening, flour, salt and pepper, quails
Barbecued Quail
Made with (4-5 ounce ea) semi-boneless quail, sea salt and fresh ground black peppercorns, Chablis wine, scallions, honey, Worcestershire sauce, garlic, dry mustard, ancho chile powder
Quail On Sage Cornbread Dressing
Made with Fresh sage sprigs (optional), black pepper, white wine, chicken broth, all-purpose flour, mushrooms, farm raised jumbo quail (6 oz size), vegetable oil, butter or margarine