home > recipes > meals / dishes > dinner meals > fish and seafood dishes > fish > shark
Shark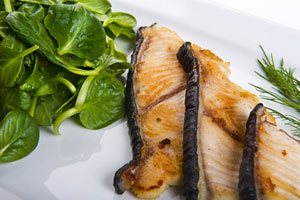 jump to the recipes

Shark isn't a popular eating fish in the U.S. for some reason. Maybe it's due to our sensationalist movies about them being so vicious, I'm not sure. It is, however, extremely popular in other cultures and has been for centuries.

You can buy shark cut in fillets, steaks, or chunks. Very small varieties of shark are sometimes sold whole.

Some species have a slight ammonia smell to them which can easily be remedied by soaking the fish for a few hours in milk or water mixed with lemon juice.

The shark flesh has no bones, so if you are easily turned off by bony fish this might be a good choice for you. It's a very dense and meaty-textured fish, similar to swordfish. It holds its shape when cooked making it perfect on the grill. It can also be broiled, baked, poached and fried. Shark is also extremely low in fat. The first time I had shark was when we grilled it when we went camping one time. I know, seems like odd food to drag to a campsite, but it was the best meal and our friends were jealous (apparently their hot dogs weren't as exciting).

If you can't get shark at your local fish market or grocery store, try substituting swordfish, mahi mahi, or tuna in place of it in these recipes.
Grilled Shark
4 reviews
Made with ketchup, Worcestershire sauce, shark steaks, butter, onion, garlic, water, vinegar, brown sugar
stovetop
Mako Shark Steaks In Herb Butter
3 reviews
Made with garlic, lemon, onion, butter, marjoram, seafood seasonings, salt, thyme, black pepper, parsley
stovetop, oven
Mako Steaks With Mussels And Clams
Made with olive oil, flour, fish stock, white wine, peas, hard boiled egg, garlic, Mussels, de-bearded and scrubbed well in cold water, Clams, scrubbed well in cold water, Mako Shark Steaks, about
Marinated Shark Steaks
4 reviews
Made with green onions, shark steaks, soy sauce, rice vinegar or wine vinegar, lemon juice, oil, parsley, garlic, black pepper
oven
Teriyaki Shark Steaks
3 reviews
Made with shark steaks, teriyaki sauce, brown sugar, lemon juice, butter, garlic powder
oven
Cajun Shark
1 review
Made with crushed red hot pepper, shark, olive oil, garlic, soy sauce, lemon juice
stovetop
Barbecued Mako-Herb Steaks
1 review
Made with black pepper, salt, Mako shark steaks, garlic, lemon juice, fresh oregano, parsley, fresh dill
outdoor grill
Shark Margarita
1 review
Made with honey or maple syrup, shark steaks, lime juice, lime rind, garlic, ground ginger, vegetable oil, black pepper
outdoor grill
Peppered Shark
Made with black pepper, shark steaks, salt, butter, shallots, cognac or other brandy, chicken stock, beef stock, whipping cream
stovetop
Buttered Mako Shark With White Wine
1 review
Made with fresh parsley, black pepper, salt, heavy cream, scallions, butter, white wine, egg yolks, patted dry, Mako Shark Steaks, rinsed in cold water and
Shark Teriyaki
Made with ginger, garlic, mako shark steaks, soy sauce, pineapple, brown sugar, vegetable oil or olive oil
oven