Fish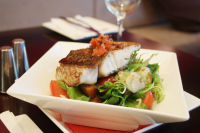 Eating fish twice a week is considered a healthy dinner choice! Fish is tasty, light, and full of protein. And the taste varies by species so if you don't like one kind, try another! Fish can be prepared in a variety of ways depending on the firmness of the fish. Some types do well on the grill, others are perfect pan fried, some are best baked. Check out our collection of over 3,000 recipes for everything from salmon, to shark, to halibut, to kid-friendly fish sticks!
Baked Teriyaki Salmon
Made with salmon filet, teriyaki sauce, garlic, onion, brown sugar, ginger, ketchup, lemon juice
oven
Salmon in Cream Sauce over Pasta
Made with fresh parsley, nutmeg, linguini, butter, frozen peas, heavy whipping cream, salmon, Parmesan cheese, salt and pepper
stovetop
Baked Halibut
Made with lemon, dried thyme, halibut steaks, salt and pepper, bread crumbs, garlic, olive oil, Parmesan cheese
oven
Salmon Fillets Stuffed With Crabmeat
Made with butter, salt and fresh ground pepper, salmon fillets, crabmeat, egg, dry mustard, Worcestershire sauce, Old Bay seasoning, mayonnaise, fresh parsley
oven
Baja Fish Tacos
These fish tacos are lower in fat than the typical fried versions. Cod fillets are seasoned and sauteed and piled into taco shells with a sour cream-mayo sauce, diced tomatoes, taco sauce, and shredded cabbage.
stovetop
Baked Pollock
Made with black pepper, pollock, sour cream, Parmesan cheese, butter, salt
oven
Oven Baked Flounder
Made with bread crumbs, salt, oregano, flounder fillets, lemon juice, butter, garlic powder, paprika
oven
Baked Redfish with Lemon Butter Sauce
Made with gravy flour, yellow onion, celery, green onions, tomatoes, redfish, seafood seasoning, paprika, lemons, sauvignon blanc
oven, stovetop
Baked Catfish Nuggets
Made with cooking spray, catfish, black pepper, garlic powder, eggs, all-purpose flour
oven
Grilled Shark
Made with ketchup, Worcestershire sauce, shark steaks, butter, onion, garlic, water, vinegar, brown sugar
stovetop
Ginger Lime Tilapia
Made with scallions, cilantro, ginger, garlic, lime juice, sesame oil, honey, soy sauce, tilapia fillets
oven