Cooked/Leftover Chicken Ideas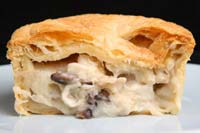 These recipes are a great way to use up leftover cooked chicken. Budget tip: buy family size packages of chicken breasts. Cook all the chicken when you are making dinner and reserve the extra to use in these recipes. Simply chop or dice and you are ready to make dinner.
Baked Chicken Tortillas
Made with cheddar cheese, salsa, sour cream, flour tortillas, chicken breast, bell pepper, tomato, onion, non-stick cooking spray
oven
Cheddar Chicken Spirals
Use up leftover cooked chicken in this simple casserole dish made with spiral pasta, mayo, mixed veggies, and cheddar cheese.
microwave, stovetop
Cheesy Chicken Crescent Dish
Made with milk, refrigerated crescent rolls, cooked, cubed chicken, cheddar cheese, cream of chicken soup, cream of mushroom soup
oven, stovetop
Chicken Tot Pie
A tasty kid-friendly casserole made with cooked chicken or turkey, mixed vegetables, chicken soup, and topped with tater tots. Grownup-friendly too.
stovetop, oven
Cheesy Chicken Noodle Bake
Made with black pepper, chicken broth, chunk chicken, egg noodles, Colby-Jack Cheese, poultry seasoning, salt
stovetop, oven
Cracker Barrel Chicken Casserole
Made with sugar, salt, baking soda, vegetable oil, buttermilk, egg, cooked chicken breasts, yellow onion, celery
oven, stovetop
Easy Chicken and Noodles
Made with cooked chicken, egg noodles, condensed cream of chicken soup, milk, Parmesan cheese, black pepper
stovetop
Brown Rice And Chicken
Made with almonds, chicken broth, chicken, onions, celery, brown rice, white wine
crock pot
Chicken A La Can-can
Made with French fried onions, chicken, cream of chicken soup, water, instant rice
oven