BROWSE
Cook Time
Cook Method
Nutrition
Recipe Newsletter
Cooked/Leftover Chicken Ideas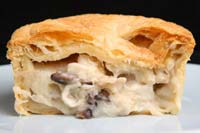 These recipes are a great way to use up leftover cooked chicken. Budget tip: buy family size packages of chicken breasts. Cook all the chicken when you are making dinner and reserve the extra to use in these recipes. Simply chop or dice and you are ready to make dinner.
Tuscan Chicken Cakes With Tomato Basil Relish
(1 reviews)

Ingredients: plum tomatoes, honey mustard, mayonnaise, balsamic vinegar & oil dressing, mixed salad greens, olive oil, red onion, roasted red peppers
stovetop
Hide Dish Data™ ▼
Nutrition per serving:
898 calories, 67g fat, 35g carbs, 45g protein.
Cheesy Chicken Crescent Dish
4 reviews

Ingredients: cream of mushroom soup, cream of chicken soup, cheddar cheese, cooked, cubed chicken, refrigerated crescent rolls, milk
oven, stovetop
Show Dish Data™ ▼
Cracker Barrel Chicken Casserole
3 reviews

Ingredients: celery, yellow onion, cooked chicken breasts, egg, buttermilk, vegetable oil, baking soda, salt, sugar
oven, stovetop
Show Dish Data™ ▼
Cheddar Chicken Spirals
3 reviews

Ingredients: chicken, cheddar cheese, frozen mixed vegetables, dried basil, salt, milk, mayonnaise, spiral pasta
microwave, stovetop
Show Dish Data™ ▼
Cheesy Chicken Noodle Bake
2 reviews

Ingredients: salt, poultry seasoning, Colby-Jack Cheese, egg noodles, chunk chicken, chicken broth, black pepper
stovetop, oven
Show Dish Data™ ▼
Easy Chicken and Noodles
1 review

Ingredients: black pepper, Parmesan cheese, milk, condensed cream of chicken soup, egg noodles, cooked chicken
stovetop
Show Dish Data™ ▼
Chicken and Stuffing Muffins
4 reviews

Ingredients: chicken, chicken broth, stuffing mix
oven
Show Dish Data™ ▼
25 Minute Chicken and Noodles
3 reviews

Ingredients: noodles, vegetables, dried basil, chicken broth, cooked chicken, black pepper
stovetop
Show Dish Data™ ▼
Buffalo Chicken Enchiladas with Creamy Ranch Sauce
3 reviews

Ingredients: buffalo wing sauce, chicken, green onions, ranch dip, cream of chicken soup, flour tortillas, cheddar cheese
oven
Show Dish Data™ ▼