home > recipes > meals / dishes > rice dishes > brown rice
Brown Rice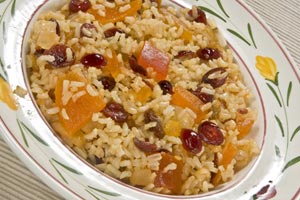 jump to the recipes

Brown rice is the whole rice grain with its outer husk removed. It is considered a "complete" grain. There are different types of brown rice: regular, parboiled, and instant.

Instant brown rice (also called quick-cooking) is ready the fastest - usually in about 10 minutes (five minutes cook time plus five minutes resting time). Parboiled rice also has a reduced cooking time but it takes about 25 minutes. The rice still has the bran and germ like regular brown rice but it has been steamed to speed up the cooking time. Regular brown rice is a very long cooking rice (but not as long as say, wild rice). It usually requires about 45 minutes cooking time to become tender.

There are different length grains just like with white rice: long, medium, and short-grain. The biggest difference with cooking the different length grains is the amount of water called for. Keep that in mind if you are substituting one type for the other in a recipe.

Brown rice has a nuttier texture and chewier texture than white rice. It is also considered healthier. Because it still has the bran coating it doesn't have as long of a shelf-life as white rice so only purchase what you will use in 6 months or so.

In many recipes you can substitute brown rice for white without a noticeable difference (again, just keep the liquid amounts in mind). I often will use brown rice in a recipe, simply adjusting for the necessary liquids.
Brown Rice
14 reviews 2 comments
A foolproof way to cook brown rice by using the slow cooker. Perfectly cooked every time.
crock pot
Basic Brown Rice Under Pressure
2 reviews
Made with salt, oil, brown rice, water
pressure cooker
Mexican Brown Rice
2 reviews 1 comment
Made with onion powder, garlic powder, onion, fruit sugar, tomatoes, brown rice, corn, water, olive oil, taco seasoning mix
stovetop
Fried Brown Rice With Ham and Shrimp
1 review
Made with salt and pepper, brown rice, vegetable oil, ham or smoked turkey, onion, fresh ginger, eggs, frozen peas, shrimp, soy sauce
stovetop
Simple Cilantro Lime Rice
1 review
Made with cilantro, brown rice, lime zest, lime juice
Chipotle Veggie Rice Bowl
Made with bay leaf, jalapeno pepper, red ripe sweet tomatoes, tomatoes, red onion, fresh cilantro, lemon juice
microwave, stovetop
Brown Rice & Vegetables
1 review
Made with sesame seeds, raisins, salt, carrots, vegetable oil, green onions, apples, brown rice
stovetop
Brown Rice And Peas
1 review
Made with salt and pepper, olive oil, red onions, red bell peppers, baby peas, brown rice, fresh herbs
stovetop
Brown Rice With Fresh Vegetables
Made with onion, olive oil, garlic, parsley, carrot, long-grain brown rice, salt, white pepper, dried thyme, bay leaf
pressure cooker
Brown Rice And Vegetables
1 review
Made with carrot, tomato, water, soy sauce, oil, zucchini, cabbage, mushrooms, onion, brown rice
stovetop
Baked Brown Rice And Carrot Casserole
1 review
Made with cheese, brown rice, sea salt, onions, carrots, celery, water, olive oil, parsley
oven, stovetop