home > recipes > meals / dishes > dinner meals > meat and poultry dishes > steaks and chops > steaks
Steak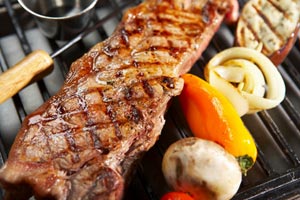 So many cuts of beef to enjoy! Steak comes in many forms and what cut of steak you use depends often on the cooking methods. New York strip steak is lean and tender and goes great on the grill. Cube steaks begin as tough pieces of meat which are then tenderized (and become very usable cuts of meat). Flank steak needs to be sliced thin, against the grain, for optimal tenderness. No matter which cut you choose, we have a recipe! In fact, we have over 1,200 steak recipes - enjoy!
featured steak recipe
Made with water, onion soup mix, cube steaks, cream of mushroom soup
view recipe
steak recipes
Tenderized round steak often called "minute steak" because it can be cooked quickly

view recipes

A tender cut of steak well suited for grilling and pan-frying.

view recipes

Round steak requires a longer cooking time to tenderize this tougher, but flavorful and more inexpensive, cut of beef.

view recipes
Get our best recipes delivered right to you!
Sign up for our newsletters that feature hand-picked recipes