home > recipes > meals / dishes > dinner meals > meat and poultry dishes > steaks and chops > steaks
Steak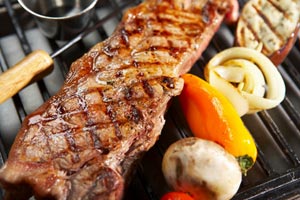 So many cuts of beef to enjoy! Steak comes in many forms and what cut of steak you use depends often on the cooking methods. New York strip steak is lean and tender and goes great on the grill. Cube steaks begin as tough pieces of meat which are then tenderized (and become very usable cuts of meat). Flank steak needs to be sliced thin, against the grain, for optimal tenderness. No matter which cut you choose, we have a recipe! In fact, we have over 1,200 steak recipes - enjoy!
cdkitchen's recommended recipes
Santa Fe Steak
New York strip steaks are lightly seasoned with chili powder and fresh oregano and served with a refreshing black bean salsa.
get the recipe →
Get our best recipes delivered right to you!
Sign up for our newsletters that feature hand-picked recipes