home > recipes > meals / dishes > dinner meals > meat and poultry dishes > steaks and chops > steaks > sirloin
Sirloin Steaks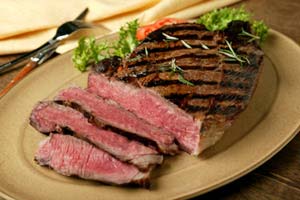 jump to the recipes

Sirloin steak is a cut of beef that consists of the top and bottom sirloin. The top sirloin cut is more tender than the bottom sirloin (which is more commonly labeled as just "sirloin steak"). Overall this is a tender cut of steak so it works well for grilling and pan frying.
Pan-Seared Top Sirloin Steaks
1 review
A simple recipe for pan-searing steaks with light Cajun seasoning.
stovetop
Broiled Sirloin With Butter Sauce
3 reviews
Made with boneless sirloin steak, butter, lemon juice, parsley, Worcestershire sauce
oven, stovetop
Cracklin' Sugar-Charred Cowboy Steak
1 review
Made with sugar, garlic powder, top sirloin steak, salt, black pepper
outdoor grill
Sweet And Spicy Petite Sirloin Steaks
1 review
Made with dried oregano, cumin, black pepper, chili powder, boneless beef top sirloin steak, beef broth, balsamic vinegar, jalapeno pepper jelly, garlic salt
stovetop
Grilled Steak With Tomato And Blue Cheese Salsa
1 review
Made with whole chives, for garnish, minced fresh chives PLUS, olive oil, walnuts, blue cheese, grape tomatoes, scallions, black pepper, salt, (12-ounce size) sirloin strip beef steaks, about 1 1/2
Beef Sirloin With Oven Roasted Vegetables
Made with onions, red, yellow or green bell peppers, non-stick cooking spray, boneless beef top sirloin steak, garlic, dried rosemary, salt, black pepper, olive oil, new red potatoes
oven
Beef Sirloin with Onions
1 review
Made with yellow onion, sirloin steak, soy sauce, Worcestershire sauce, black pepper
stovetop
Sirloin Tip Casserole
Made with pepper, onion, sirloin tips, cream of chicken or mushroom soup, water, mushrooms, garlic salt
oven
Garlic Mushroom Stuffed Sirloin
Made with black pepper, dried thyme, salt, sirloin steak, olive oil, fresh mushrooms, garlic, green onions, dry red wine
oven, stovetop
Sauteed Sirloin And Mushrooms
Made with fresh mushrooms, boneless beef sirloin steak, onion, herb pepper, garlic pepper, margarine or butter, beef broth, hoisin sauce, teriyaki sauce, or Worcestershire sauce
stovetop
Steak Au Jus
1 review
Made with water, boneless sirloin steak, onion soup mix, olive or vegetable oil
oven, stovetop