Ground Beef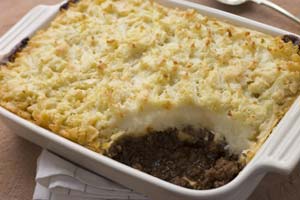 jump to the recipes

Ground beef can be purchased with different fat contents. The more fat the more moist the beef will be (but it will also be fattier!). It's best to use the type of grind called for in the recipe (if it is specified). Ground beef is extremely versatile. It can be formed into patties (burgers) or meatloaf. Roll it into balls and brown for meatballs. Brown it and use it in pasta sauce, tacos, and casseroles. Cook's tip: buy ground beef in bulk and brown one-pound portions of it. The browned beef will freeze wonderfully and is a time saver on busy dinner nights. Just use wherever browned ground beef is called for!
Stuffed Green Peppers With Cheese

8 reviews
A traditional oven-baked version of stuffed bell peppers made with ground beef, green bell peppers, onion, canned tomatoes, rice, and Cheddar cheese.
stovetop, oven
Stuffed Peppers With Beef And Rice

4 reviews
Bell peppers are stuffed with ground beef, onion, and rice and topped with spaghetti sauce in a crock pot.
crock pot
Ground Beef And Rice Casserole

7 reviews 1 comment
An easy family favorite. Ground beef is mixed with onion soup mix, cream of mushroom soup, onion, and rice and baked in a casserole dish until done.
oven
Unstuffed Cabbage Casserole

6 reviews
Made with onion, cabbage, green bell pepper, instant rice, water, tomato paste, tomatoes, ketchup, vinegar, sugar
stovetop, crock pot
Classic Stuffed Bell Peppers

9 reviews
Parboiling the peppers reduces the cooking time in this recipe containing rice, ground beef, diced tomatoes, and Monterey Jack cheese.
oven, stovetop
Ground Beef and Potato Meal

5 reviews
Made with water, ground beef, black pepper, garlic, thyme, potatoes, onions, cream of mushroom soup
stovetop, crock pot
Baked Stuffed Green Peppers

7 reviews
This recipe for stuffed green peppers uses bread crumbs instead of rice to make the ground beef filling.
stovetop, oven
Polish Stuffed Cabbage (Golomki)

4 reviews 3 comments
Made with tomato sauce, ground beef, sausage, rice, water, margarine, onion, eggs, Italian seasoning, salt and pepper
oven, stovetop
Ground Beef Dinner

2 reviews 1 comment
Made with French-fried onions, celery, ground beef, cream of mushroom soup, cream of chicken soup, rice, water, soy sauce, onion
stovetop, crock pot
Stuffed Peppers with Rice and Hamburger

2 reviews 2 comments
An easy version of stuffed peppers using only four simple ingredients.
oven, stovetop
Easy Cabbage Roll Casserole

2 reviews
Made with cabbage, long grain rice, ground beef, onions, garlic, salt, black pepper, tomato sauce, water, tomato soup
crock pot, stovetop
Hamburger Rice Casserole

2 reviews
A tasty hamburger-rice casserole made with French onion soup and mushrooms.
oven