home > recipes > meals / dishes > dinner meals > meat and poultry dishes > beef dishes > ground beef
Ground Beef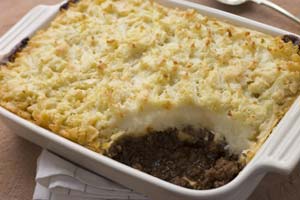 Ground beef can be purchased with different fat contents. The more fat the more moist the beef will be (but it will also be fattier!). It's best to use the type of grind called for in the recipe (if it is specified). Ground beef is extremely versatile. It can be formed into patties (burgers) or meatloaf. Roll it into balls and brown for meatballs. Brown it and use it in pasta sauce, tacos, and casseroles. Cook's tip: buy ground beef in bulk and brown one-pound portions of it. The browned beef will freeze wonderfully and is a time saver on busy dinner nights. Just use wherever browned ground beef is called for!
featured ground beef recipe
Quick and easy fajitas made with ground beef, bell peppers, and zucchini. Served with a low fat sour cream-mustard sauce.
view recipe
ground beef recipes
Great for busy weeknight dinners. Budget and kid-friendly recipes included.

view recipes

Stuffed peppers are a family favorite and so easy to make. With an endless variety of filling recipes you're sure to find something that everyone will enjoy.

view recipes
Get our best recipes delivered right to you!
Sign up for our newsletters that feature hand-picked recipes
search the ground beef recipes