Ground Beef Stuffed Peppers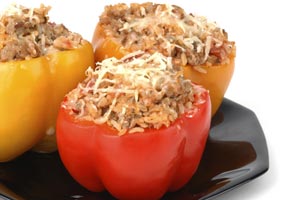 jump to the recipes

Stuffed peppers are a family favorite and so easy to make. With an endless variety of filling recipes you're sure to find something that will please everyone. Beef can be combined with rice, barley, pasta, cheese or just veggies to fill bell peppers. For fun, try using a variety of green, yellow and red peppers.
Stuffed Green Peppers With Cheese

8 reviews
A traditional oven-baked version of stuffed bell peppers made with ground beef, green bell peppers, onion, canned tomatoes, rice, and Cheddar cheese.
stovetop, oven
Stuffed Peppers With Beef And Rice

4 reviews
Bell peppers are stuffed with ground beef, onion, and rice and topped with spaghetti sauce in a crock pot.
crock pot
Classic Stuffed Bell Peppers

9 reviews
Parboiling the peppers reduces the cooking time in this recipe containing rice, ground beef, diced tomatoes, and Monterey Jack cheese.
oven, stovetop
Baked Stuffed Green Peppers

7 reviews
This recipe for stuffed green peppers uses bread crumbs instead of rice to make the ground beef filling.
stovetop, oven
Stuffed Peppers with Rice and Hamburger

2 reviews 2 comments
An easy version of stuffed peppers using only four simple ingredients.
oven, stovetop
Beef And Barley Stuffed Peppers

1 review
Made with ground beef, onion, celery, garlic, non-stick cooking spray, pearl barley, corn, chili powder, dried oregano, salt
oven, stovetop
Chili Stuffed Peppers

2 reviews
Made with cheddar cheese, cayenne pepper, green bell peppers, ground beef, onion, chili beans, diced tomatoes and green chilies, chili powder, salt, black pepper
oven, stovetop
Couscous-Stuffed Peppers

1 review
Made with couscous, ground red pepper, ground cinnamon, salt, ground cumin, tomato sauce, garlic, onion, ground beef, bell peppers
stovetop, crock pot
Beef And Feta Stuffed Peppers

1 review
Made with feta cheese with garlic and herbs, couscous, tomatoes, soy or garbanzo beans, dried Italian seasoning, black pepper, ground beef, red bell peppers, shallots
stovetop, oven
Israeli Stuffed Peppers

1 review
Made with ground beef, rice, egg, water, salt and black pepper, oil, onion, diced tomatoes
stovetop, oven
Stuffed Peppers

1 review
Made with water, tomato soup, black pepper, green bell peppers, ground beef, rice, onion, carrot, beef bouillon granules, salt
crock pot