Ground Beef And Rice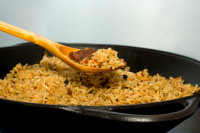 Ground beef is a great choice for a busy weeknight dinner. Pair it with some rice and you have an easy meal. Some of our favorites in this collection include western skillet rice, baked beef and rice marinara, and hamburger casserole with wild rice.
Ground Beef And Rice Casserole
An easy family favorite. Ground beef is mixed with onion soup mix, cream of mushroom soup, onion, and rice and baked in a casserole dish until done.
oven
BBQ Beef And Rice
A one-dish skillet meal made with ground beef, onion, rice and barbecue sauce.
stovetop
Family Hamburger Rice Casserole
Minimal prep work goes into this ground beef casserole made with cooked ground beef, rice, cream of mushroom, soup, onion, soy sauce, and brown sugar.
oven, stovetop
Hamburger Rice Casserole
This casserole recipe has a tomato-cream sauce and is made with ground chuck, rice, green pepper, onion, celery, cream of mushroom soup, tomatoes, and milk.
stovetop, oven
Beef And Rice Skillet
A simple skillet dinner made with ground beef, onion, rice, beef bouillon granules, green bell pepper, tomato, and Monterey jack cheese.
stovetop
Cheeseburger Rice
Made with Cheddar cheese, ground beef, onion, water, ketchup, mustard, salt, black pepper, instant rice
stovetop
Jan's Hamburger & Rice Casserole
This oven-baked ground beef and rice casserole gets its creamy texture from cream of mushroom soup and sour cream.
oven, stovetop
Quick Skillet Dinner
Make a quick and easy skillet meal starting with a package of beef flavored pasta mix. Simply add ground beef and simmer.
stovetop
Italian Rice
Made with water, Worcestershire sauce, cooked rice, ground round, olive oil, onion, Italian seasoning, garlic, Parmesan cheese, tomato soup
stovetop, oven
Sunday Rice Casserole
A crock pot version of ground beef and rice casserole made with brown rice, cream, onion, and ground beef.
crock pot
Beef-Rice Casserole
Made with salt and pepper, ground beef, rice, chopped tomatoes, chili powder, onion, green bell pepper
oven, stovetop