Recipes by Ingredient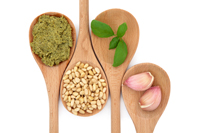 Sometimes you need to find a recipe that uses a certain ingredient, that's why we created this section. Maybe you bought too much chicken or found an unusual vegetable you aren't sure how to prepare. Browse our extensive listing of ingredients which includes convenience foods, fresh fruit and vegetables, various cuts of meat, and more.
Pick your recipe by the type or cut of meat and poultry you have on hand.
Portobello-Smothered Beef Medallions
A delicious pairing of beef and mushrooms that isn't hidden under a pretentious sauce
get the recipe →
Stick with your favorite veggies or try something new with our A-Z vegetable guide.
Baked Stuffed Red Peppers With Cherry Tomatoes, Feta, and Thyme
Aside from being tasty, this is a lovely dish to look at!
get the recipe →
Recipes using timesaving products like packaged baking mixes, canned soups, and refrigerated crescent rolls.
Bisquick Peach Cobbler
This recipe was so easy to follow, and was to die for. My husband even liked it, and he's hard to please! but it got his stamp of approval. I did add...
get the recipe →
Rice and grains can provide your diet with low fat, healthy fiber. They are also just plain yummy.
Basmati Rice With Peas
Subtle spices dress up this rice dish. Goes great with a variety of main dish recipes.
get the recipe →
Flavored butters, homemade beer cheese, fresh ricotta and more.
Southwestern Cheesecake
This is a very tasty dip for eating chips at a party -ITSJUSTME
get the recipe →
Have some pears to use up? Maybe an abundance of watermelon? Or maybe you found yourself with some figs. Try our recipes using all kinds of fruits in desserts, drinks, and baked goods.
Crackling Frosted Grapes
Pretty as a garnish and tasty to eat
get the recipe →