home > recipes > holidays & parties > thanksgiving
Thanksgiving Recipes: Turkey, Stuffing, Pumpkin Pie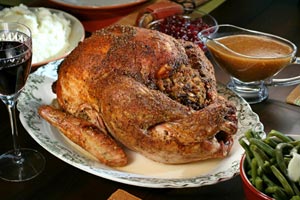 Thanksgiving is celebrated the fourth Thursday in November in the United States. It's a remembrance of the first Pilgrim feast in 1621 where they gave thanks for a bountiful harvest.

Traditional Thanksgiving food (not to be confused with the food served at the original feast, only some of which is still served today) consists of a roasted turkey, gravy, stuffing (dressing), mashed potatoes, sweet potatoes, green beans, cranberry sauce, and pumpkin or pecan pie. Of course, many variations are common in different parts of the country and every family has developed their own traditions.

Canadian Thanksgiving is celebrated on the second Monday in October (same as Columbus Day in the U.S.). Many of the same foods are eaten on both holidays.

Every few years a new trendy fad develops to put a new spin on the traditional fare. For example, deep frying a turkey in place of roasting has become popular over the last few years as has brining the bird before cooking it.

This is also one holiday that warrants nearly as many recipes for leftovers as it does the meal itself. In fact, many people claim that the leftovers are their favorite part of the holiday!
featured thanksgiving recipe
Made with dried minced onion, whole turkey, water, chicken bouillon, butter, seasoned salt, parsley
view recipe
thanksgiving recipes
If the turkey is the star of the Thanksgiving show, then the side dishes are the supporting actors. Your choice of sides are important for balancing out the flavors of the meal.

view recipes

Tired of dried out turkey? Our recipes will make Thanksgiving a success with these tried and true favorites.

view recipes
Get our best recipes delivered right to you!
Sign up for our newsletters that feature hand-picked recipes
search the thanksgiving recipes
thanksgiving help
mashing the potatoes


Learn the tricks of the trade for keeping your potatoes lump free and preventing them from turning gluey

leftover storage


A handy guide on how long to safely store those leftovers.
from the cdkitchen cooking experts