Thanksgiving Leftovers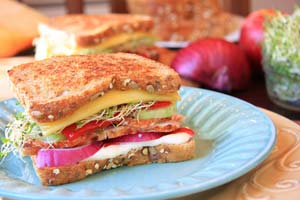 jump to the recipes

Too much turkey? Mucho mashed potatoes? Can't eat any more cranberries? No problem! Try a gourmet turkey sandwich or a healthy turkey salad. Soup more your thing? We've got lots of soup recipes! Use up those cranberries in a salad or even on a turkey sandwich. Leftover mashed potatoes are great casserole toppers or make potato patties. So many options - don't let the leftovers go to waste!
Mashed Potato Dumplings

2 reviews 1 comment
Made with salt and pepper, mashed potatoes, all-purpose flour, egg
stovetop
Turkey Soup

5 reviews
Made with turkey stock, stewed tomatoes, celery, carrots, onion, potatoes, corn, green beans, bay leaves, turkey
crock pot
Easy Leftover Turkey Casserole

2 reviews
Made with leftover turkey, veggies, cream of chicken soup, stuffing
oven
Baked Mashed Potato Omelet

2 reviews
Made with Parmesan cheese, bell peppers, onion, mushrooms, oil, eggs, mashed potatoes
stovetop, oven
Leftover Mashed Potatoes Croquettes

4 reviews 1 comment
Made with oil, mashed potatoes, cheddar cheese, egg, bread crumbs
stovetop
Mashed Potato Candy

1 review 1 comment
Made with peanut butter, mashed potatoes, milk, vanilla extract, salt, powdered sugar
Turkey-Barley Soup

2 reviews
Made with turkey or chicken broth, bay leaf, turkey, dried thyme, pearl barley, dried marjoram, onion, black pepper, celery, fresh parsley
crock pot, stovetop
Easy Turkey Soup

2 reviews
Made with elbow macaroni pasta, black pepper, poultry seasoning, turkey, water, celery, frozen mixed vegetables, chicken broth
stovetop
Turkey, Wild Rice and Pumpkin Soup

2 reviews
A perfect post-Thanksgiving recipe. Goes great alongside a turkey sandwich. The soup is made with broth, canned pumpkin, leftover cooked turkey, vegetables, wild rice, half and half and seasoned with salt and cinnamon.
stovetop
Turkey Potpie
Fill a purchased or homemade pie crust with leftover turkey, peas, onion, carrots, and celery. Top with a second crust for a delicious pot pie.
oven, stovetop
Cheeseburger Pie II
Made with mashed potatoes, ground beef, bell pepper, onion, cheese
oven, stovetop
Turkey and Rice Soup

4 reviews
Made with onion, turkey, water, chicken bouillon granules, salt, bay leaf, poultry seasoning, white pepper, carrots, corn
stovetop