Thanksgiving Leftovers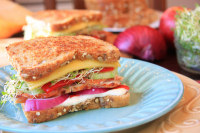 Too much turkey? Mucho mashed potatoes? Can't eat any more cranberries? No problem! Try a gourmet turkey sandwich or a healthy turkey salad. Soup more your thing? We've got lots of soup recipes! Use up those cranberries in a salad or even on a turkey sandwich. Leftover mashed potatoes are great casserole toppers or make potato patties. So many options - don't let the leftovers go to waste!
Turkey Soup
Made with turkey stock, stewed tomatoes, celery, carrots, onion, potatoes, corn, green beans, bay leaves, turkey
crock pot
Mashed Potato Candy
Made with peanut butter, mashed potatoes, milk, vanilla extract, salt, powdered sugar
Turkey-Barley Soup
Made with turkey or chicken broth, bay leaf, turkey, dried thyme, pearl barley, dried marjoram, onion, black pepper, celery, fresh parsley
crock pot, stovetop
Turkey, Wild Rice and Pumpkin Soup
A perfect post-Thanksgiving recipe. Goes great alongside a turkey sandwich. The soup is made with broth, canned pumpkin, leftover cooked turkey, vegetables, wild rice, half and half and seasoned with salt and cinnamon.
stovetop
Turkey Potpie
Fill a purchased or homemade pie crust with leftover turkey, peas, onion, carrots, and celery. Top with a second crust for a delicious pot pie.
oven, stovetop
Easy Turkey Soup
Made with elbow macaroni pasta, black pepper, poultry seasoning, turkey, water, celery, frozen mixed vegetables, chicken broth
stovetop
Cheeseburger Pie II
Made with mashed potatoes, ground beef, bell pepper, onion, cheese
oven, stovetop
Turkey Egg Salad
Made with dark and white meat turkey, celery seed, mayo or salad dressing, hard-cooked eggs, pickle relish, celery, onion