Thanksgiving Desserts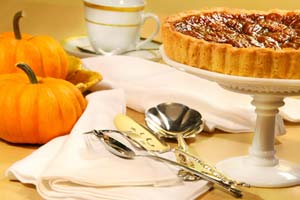 jump to the recipes

The turkey is finished, the dishes are cleared...you know what they want: Dessert! Go for a traditional pumpkin or pecan pie, or try a new twist with a cranberry cheesecake or pumpkin caramel custard.
Diabetic Pecan Pie

11 reviews 5 comments
Made with milk, pie shell, pecan, butter, eggs, light syrup, salt, sugar substitute, flour, vanilla extract
stovetop, oven
Pappadeaux's Sweet Potato Pecan Pie With Bourbon Sauce

9 reviews 2 comments
Made with pie pastry, sugar, corn syrup, eggs, butter, vanilla extract, salt, ground cinnamon
oven
Impossible Pumpkin Pie

1 review 2 comments
A crustless pumpkin pie made with pumpkin pie filling, evaporated milk, butter, eggs, sugar, Bisquick, pumpkin pie spice, and vanilla extract.
oven
Easy Pumpkin Pie

5 reviews
Made with salt, ground nutmeg, ground ginger, cinnamon, pastry shell, pumpkin, sweetened condensed milk, eggs
oven
Elvis Presley's Sweet Potato Pie

2 reviews
This popular pie is made with a combination of sweet potatoes and russets for a lighter flavor than other pies.
stovetop, oven
Pumpkin Mousse

3 reviews
Made with gingersnaps, frozen whipped topping, milk, cream cheese, sugar, pumpkin, vanilla pudding mix, pumpkin pie spice
Pumpkin Spice Bundt Cake

7 reviews 1 comment
Made with pecans or walnuts, spice cake mix, pumpkin, oil, vanilla instant pudding mix, eggs, cinnamon, water
oven
Pumpkin Cheesecake

1 review
Made with ground cinnamon, vanilla extract, gingersnaps, brown sugar, butter, cream cheese, flour, pumpkin, sweetened condensed milk, eggs
oven
Dark Chocolate and Pumpkin Cheesecake

1 review
This dessert starts with a chocolate pecan cookie crust and then features two layers of cheesecake, one chocolate and one pumpkin. It's then covered with a semisweet chocolate ganache for a dessert that is out of this world!
oven, stovetop
3 Layer Pumpkin Pecan Cake

3 reviews 1 comment
Made with carrot cake mix, pumpkin, eggs, water, powdered sugar, butter, cream cheese
oven
Libby's Famous Pumpkin Pie

2 reviews
Made with pie shell, evaporated milk, eggs, pumpkin, sugar, salt, ground cinnamon, ground ginger, ground cloves
oven
Caramel Pecan Pumpkin Pie

2 reviews
Made with brown sugar, flour, salt, cinnamon, ginger, nutmeg, pumpkin puree, eggs, evaporated milk, maple flavoring
oven, stovetop