SuperBowl Party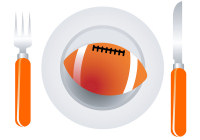 Cheer on your favorite team in the ultimate football game - the SuperBowl! And all that cheering makes a fan hungry, so these recipes are a must. Nibble on finger foods like chicken wings and flavored popcorn, and when halftime comes around dig into some delicious chili or Football Fajitas!
Bacon Wrapped Dogs
Hot dog pieces (or "lil' smokies") are wrapped in bacon, coated in brown sugar, and then slow cooked until the bacon caramelizes. The ultimate party food!
crock pot
Easy 7-Layer Dip
Made with bean dip, guacamole, sour cream, tomatoes, black olives, cheddar cheese, green onions, corn chips
Mexican Chicken Wings
Cumin and chili powder help heat up these hot wings. They are baked instead of fried and are falling-off-the-bone tender.
oven, stovetop
Puppy Chow
Made with Crispix cereal, butter, peanut butter, powdered sugar, chocolate chips
stovetop
Oven BBQ Chicken Wings
Made with barbecue sauce, chicken wings, flour, paprika, garlic salt, black pepper, butter
oven
Classic Guacamole
Made with salt and freshly ground black pepper, cilantro, avocados, garlic, lime juice, jalapeno pepper, tomatoes, red onion
Game Day Burger-Potato Bites
Made with mustard, ketchup, dairy sour cream, and/or dill pickle slices, ground beef or turkey, French fries, seasoning blend, cheddar cheese, cherry tomatoes
oven, stovetop
Cheese Pizza Dip
Made with Italian bread, pepperoni, herb soup mix, sour cream, ricotta cheese, mozzarella cheese
oven