home > recipes > holidays & parties > presidents day
President's Day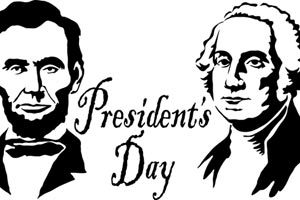 jump to the recipes

Celebrate United States history with some tasty recipes from some of our past Presidents and other political figures. President's Day is always celebrated on the third Monday in February. George Washington was known for his eggnog recipe and Mamie Eisenhower for her fudge. But did you know that Thomas Jefferson had a favorite Chicken Fricassee recipe?
Laura Bush's Cowboy Cookies
12 reviews 1 comment
Made with old-fashioned rolled oats, ground cinnamon, baking soda, salt, butter, sugar, brown sugar, eggs, vanilla extract, semisweet chocolate chips
oven
Thomas Jefferson's Chicken Fricassee
8 reviews 3 comments
Thomas Jefferson (and his personal chef) were quite instrumental in helping to bring French cuisine to America. This recipe for chicken fricassee is classic French dish that is positively delicious.
stovetop
Bess Truman's Ozark Pudding
4 reviews
Made with whipped cream, sugar, egg, all-purpose flour, baking powder, salt, apples, nuts, vanilla extract
oven
Hilary Clinton's Chocolate Chip Cookies
1 review
Made with semisweet chocolate chips, Oats; rolled, old fashioned, eggs, vanilla extract, sugar, Sugar; brown, firmly packed, shortening, baking soda, salt, flour
Lady Bird Johnson's Famous Lemon Cake
5 reviews
Made with cake flour, baking powder, salt, milk, vanilla extract, lemon rind, lemon juice, confectioners' sugar, butter or margarine
oven
Mary Todd Lincoln's Vanilla Almond Cake
1 review
Made with vanilla extract, cake flour, baking powder, milk, almonds, egg whites, sugar, water, cream of tartar
oven, stovetop
Bill Clinton's Chicken Enchiladas
1 review
Made with corn tortillas, salt, oregano, green chiles, chicken, tomatoes, cheddar cheddar, onion, oil
oven, stovetop
Nancy Reagan's Vienna Bars
3 reviews
Made with nuts, egg whites, butter, sugar, egg yolks, all-purpose flour, salt, strawberry or raspberry jelly
oven
George Washington Fresh Apple Cake
1 review
Made with sugar, oil, self-rising flour, cinnamon, vanilla extract, walnuts, apples, cream cheese, butter
oven
Jimmy Carter Cake
1 review
Made with margarine, peanut butter, powdered sugar, cream cheese, Cool Whip, chocolate pudding mix, instant vanilla pudding mix, milk
oven