Cook Time
Cook Method
Recipe Newsletter
Mother's Day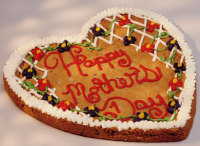 Mom deserves the best, so cook up something special for her this Mother's Day. Try surprising her with a tasty breakfast in bed or whip up an easy dinner while she relaxes and enjoys her special day.
White Chocolate Cheesecake Cupcakes
Cheesecake flavored pudding mix is the secret ingredient in this super easy recipe.
Ingredients: white cake mix, sour cream, cheesecake pudding mix, white chocolate chips
oven
Bisquick Blueberry Muffins
7 reviews

Ingredients: vegetable oil, milk, sugar, baking mix, egg, blueberries
oven
Show Dish Data™ ▼
Bacon Wrapped Grilled Shrimp
2 reviews

Ingredients: bacon, Monterey jack cheese, jalapeno peppers, shrimp
outdoor grill
Show Dish Data™ ▼
Frozen Fruit Salad
Ingredients: orange juice concentrate, water, crushed pineapple, small jar maraschino cherries, sugar, lemon, bananas, pkg. frozen strawberries
Mother's Day Chocolate Cake
Ingredients: Flour -- Unbleached, Sifted, baking cocoa, baking soda, salt, shortening, sugar, corn syrup, Eggs -- Large, Separated, vanilla extract, Coffee -- Cooled
Mother's Day Ice Cream Cake
Ingredients: chocolate ice cream, frozen yogurt or sorbet, strawberries, rinsed, drained, confectioners' sugar, (16-ounce) angel food cake, sweetened whipped cream or thawed non-dairy whipped topping, chocolate-covered strawberries, optional
Cherry Pineapple Muffins
Ingredients: eggs, sugar, butter, maraschino cherry juice, pineapple chunks, maraschino cherries, almond extract, flour, baking powder, baking soda
Mother's Day Chocolate-Peanut Butter Pies
Ingredients: graham cracker crumbs, butter, sour cream, sour cream, powdered sugar, whipping cream, creamy peanut butter, PLUS, peanut butter, whipping cream, semi-sweet chocolate