Celebrate Mardi Gras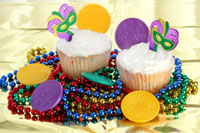 Recipes for celebrating Mardi Gras like hurricane punch, beignets, king cake, gumbo, po boy sandwiches, jambalaya and more
Bayou Gumbo
Sausage, shrimp, okra and rice provide all the great flavors of a classic Louisiana style gumbo in this recipe but with the ease of the crock pot.
crock pot, stovetop
Easy King Cake
Made with red, blue, yellow, and green food color, sugar, lemon peel, ground nutmeg, gumdrop, yellow cake mix, confectioners' sugar, lemon juice, water
oven
Spicy Cajun Buffalo Wings
Chicken wings are combined with spicy ingredients like spicy bbq sauce, cayenne pepper, jalapeno sauce, Tabasco, and Cajun seasoning in the crock pot and slowly simmered until tender (and HOT!)
crock pot
Shrimp Creole
A slow cooked version of authentic shrimp creole made with the holy trinity (celery, onion, bell pepper), tomatoes and tomato sauce, garlic, Tabasco, and shrimp all served over hot rice.
crock pot
Pat O'Brien's Hurricane Punch
A copy cat recipe from the famous Pat O'Brien's located in the French Quarter of New Orleans. The punch calls for passion fruit cocktail mix, lemon juice, and dark rum. All mixed up festively in a hurricane glass.
Rich & Spicy Bloody Mary Mix
Skip the bottled Bloody Mary mix next time and make your own. This makes a big batch but it can be scaled down easily. It has just the right balance of spices and is delicious enough to drink without the vodka too.
Shrimp Jambalaya
Made with parsley, oregano, boneless chicken breasts, smoked sausage, shrimp, crushed tomatoes, onion, green bell pepper, chicken broth, white wine
crock pot
Alligator or Crocodile Gumbo
Made with butter, parsley, green onions, garlic, red bell pepper, celery, green bell pepper, okra, stewed tomatoes, cayenne pepper
stovetop
Cajun Shrimp
Made with shrimp, olive oil, Cajun seasoning, lemon juice, parsley, honey, soy sauce, cayenne pepper
oven
Mardi Gras Salad
Made with celery seed, sugar, vinegar, sour cream, mayonnaise, green bell pepper, carrots, green cabbage, red cabbage, cooked rice -- room temperature
Mardi Gras Punch
A layered punch drink in the popular colors celebrated at Mardi Gras. Grape juice, pineapple juice, lemon-lime soda, and vodka are layered on top of each other to create this festive drink.