home > recipes > holidays & parties > thanksgiving > leftovers > turkey leftovers > casseroles
Thanksgiving Leftovers: Turkey Casseroles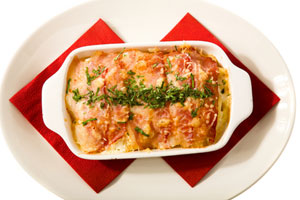 jump to the recipes

Easy and delicious, turkey casserole recipes are a great way to use up that leftover Thanksgiving turkey.
Easy Leftover Turkey Casserole

2 reviews
Made with leftover turkey, veggies, cream of chicken soup, stuffing
oven
Turkey Potpie
Fill a purchased or homemade pie crust with leftover turkey, peas, onion, carrots, and celery. Top with a second crust for a delicious pot pie.
oven, stovetop
Turkey & Broccoli Casserole

2 reviews 1 comment
Made with mushrooms or bacon, salt and pepper, broccoli, turkey or chicken, mayonnaise, cream of mushroom soup, eggs, cheddar or monterey jack cheese
oven
Turkey Shepherd's Pie

1 review
Made with mashed potatoes, cubed cooked turkey, turkey gravy, carrots, prepared stuffing, whole kernel corn
crock pot
Casserole Turkey Dinner

1 review
Made with frozen french cut green beans, stuffing mix, cream of mushroom soup, milk, turkey or chicken
oven, stovetop
Creamy Turkey & Potato Casserole

1 review
Made with chicken or turkey, cheddar cheese, frozen hash brown potatoes, cream of chicken soup, milk, sour cream, butter, onion, green bell pepper
oven
Crescent Turkey Squares

1 review
Made with seasoned croutons, refrigerated crescent roll dough, black pepper, turkey breast, cream cheese, butter or margarine, margarine, milk, onion, salt
oven
Turkey & Rice Casserole

2 reviews
Made with black pepper, cooked turkey, rice, green bell pepper, onion, cream of mushroom soup, garlic salt
oven
Turkey Tetrazzini Casserole

1 review
Made with cayenne pepper, cream cheese, cream of mushroom soup, milk, linguine pasta, bacon, cooked turkey, mushrooms, pimientos, black pepper
oven, stovetop, microwave
Leftover Chicken Or Turkey Casserole
Made with bread, eggs, onion, celery, margarine, chicken or turkey, rice, dried parsley, evaporated milk, chicken and rice soup
oven, stovetop
Turkey Noodle Casserole
Made with curry powder, salt, turkey, frozen peas, noodles, butter or margarine, onions, mushrooms, cream of mushroom soup, milk
oven, stovetop
Turkey Enchilada Casserole
Made with monterey jack cheese, turkey, cream of mushroom soup, cream of chicken soup, onions, green chile, ripe olives, cumin, oregano, flour tortilla
oven, stovetop