home > recipes > holidays & parties > halloween > halloween candy leftovers
Leftover Halloween Candy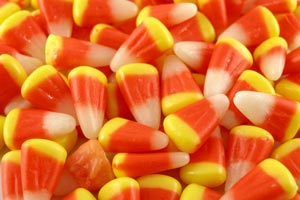 jump to the recipes

Not enough trick-or-treaters this year? Or did you just buy too much candy? No worries, use up your leftover candy in these great recipes for cakes, cookies, cheesecakes, pies and other desserts.
Better Than Sex Cake
35 reviews 3 comments
Made with toffee candy bars, whipped topping, German chocolate cake mix, sweetened condensed milk, caramel
oven
Candy Bar Smoothies
3 reviews
A fun way to use up leftover fun size Kit Kat bars and a CDKitchen suggestion for making a grownup-only version.
Death By Chocolate Trifle Dessert
3 reviews
Made with chocolate pudding or mousse mix, whipped topping, chocolate cake mix, chocolate covered toffee candy bars, Kahlua
oven
Reese's Peanut Butter Cup Cheesecake
3 reviews
Made with butter, graham crackers, cream cheese, sugar, eggs, cornstarch, vanilla extract, whipping cream, peanut butter cup candies
oven
Butterfinger Banana Cake
2 reviews
Made with white frosting, yellow cake mix, bananas, candy bars
oven
Goblin's Delight
1 review
Made with peanuts, pretzels, raisins, candy corn, chocolate chips, candy-coated chocolate pieces
Milky Way Bundt Cake
1 review 2 comments
Made with walnuts, vanilla extract, candy bars, butter, sugar, eggs, flour, buttermilk, baking soda
oven, stovetop, microwave
Super Duper Crispy Treats
1 review
Made with salt, butter, toasted rice cereal, candy coated milk chocolate candies, miniature marshmallows, creamy peanut butter
stovetop
Butterfinger Trifle
2 reviews
Made with candy bar, chocolate cake, chocolate pudding mix, Cool Whip
Deep Fried Candy Bars
1 review
Made with shortening or oil, flour, salt, water, baking powder, caramel covered candy bars
deep fryer
Butterfinger Angel Food Layer Cake
1 review 1 comment
Made with candy bars, angel food cake, butter, egg yolks, confectioners' sugar, vanilla extract, Cool Whip