home > recipes > holidays & parties > halloween > trick-or-treats and sweets
Halloween Treats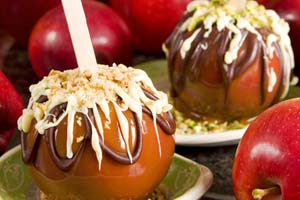 jump to the recipes

Sweets and Treats for trick-or-treaters. Recipes for bewitching cupcakes, candied apples, spider snack cakes, witches fingers, and other creepy treat recipes.
Bloody Witch Finger Cookies
3 reviews
Made with red decorating gel, almonds, butter, powdered sugar, egg, almond extract, vanilla extract, flour, baking powder, salt
oven
Potty Jello
1 review 1 comment
Made with candy bars, lemon jello
Kitty Litter Cake
3 reviews
Made with tootsie rolls, green food coloring, vanilla sandwich cookies, German chocolate cake mix, white cake mix, vanilla pudding mix
oven, microwave
Gummi Worm Cake
2 reviews
Made with Oreo cookies, gummi worms, chocolate frosting, chocolate cake mix
Dark Chocolate and Pumpkin Cheesecake
1 review
This dessert starts with a chocolate pecan cookie crust and then features two layers of cheesecake, one chocolate and one pumpkin. It's then covered with a semisweet chocolate ganache for a dessert that is out of this world!
oven, stovetop
Litterbox Cookies
1 review
Made with honey, butter or margarine, molasses, whole wheat flour, egg, ground ginger, ground cinnamon, ground cloves, grape-nuts cereal
microwave
Candy Corn
1 review
Made with powdered milk, salt, sugar, corn syrup, butter, vanilla extract, food coloring, powdered sugar
stovetop
Black Rats
1 review
Made with white cake frosting, almond slices, chocolate almond bark, maraschino cherries, milk chocolate kisses, red cake frosting
microwave
Halloween Black Cat Cookies
2 reviews
Made with red hot candies, crunchy peanut butter, water, eggs, chocolate cake mix, candy coated plain milk chocolate candy pieces
oven
Brownie Cemetery Cake
2 reviews
Made with green food coloring, sweetened coconut flakes, brownie mix, vanilla frosting, Hershey's cocoa, Hershey's Hugs chocolates, Hershey's Kisses chocolates, cookies 'n' creme candy bars, Kit Kat
oven
Eyeball Cookies
2 reviews
Made with white chocolate almond bark, butter, peanut butter, powdered sugar, vanilla extract
microwave
Lizard Skins
1 review
Made with raisins, non-stick cooking spray, peanut butter, marshmallows, green food coloring, Rice Krispies, Cheerios or corn flakes
stovetop